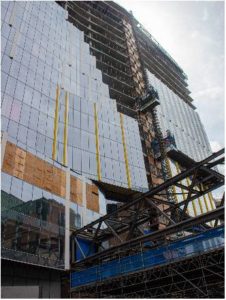 PCL Construction's Toronto office held a beam-signing ceremony, alongside the Hospital for Sick Children (SickKids) and B+H Architects, to celebrate topping off the hospital's new Patient Support Centre (PSC).
Topping off is a construction milestone achieved when a building's structure reaches its maximum height. The PSC is a 22-storey training, education, and administrative tower proposed as part of the hospital's Project Horizon. Project Horizon is a campus redevelopment project to feature new construction and renovations to bring the pediatric care hospital, built in 1875, up to speed with the future.
PCL took control of the PSC site more than two years ago and officially broke ground in Oct. 2019. During the two years of structural construction of the PSC, more than 25,000 m3 (882,000 cf) of concrete—enough to build a standard sidewalk between SickKids and the city of Peterborough—was utilized, with approximately 2458 tonnes (2,458,000 kgs) of rebar. The building's construction deadline is set for 2023. Other project partners are vertical transportation consultant, KJA Consultants; structural engineer, Entuitive; mechanical contractor, The Mitchell Partnership; and electrical contractor, Mulvey & Banani.
"We are incredibly proud to be celebrating this monumental moment alongside SickKids, SickKids Foundation, our partners, and the hundreds of tradespeople who have been integral in bringing this project to life," says Monique Buckberger, vice president and district manager of PCL Toronto. "Topping off the Patient Support Centre is much more than a construction milestone. It is a representation of each team member's personal connection to SickKids, as well as our shared passion and drive for delivering this impactful project for the community."
"Working alongside SickKids to create a forward-looking environment that is firmly rooted in its community and a distinct new addition to Toronto's urban fabric was an immensely rewarding experience," says Patrick Fejer, CEO at B+H. "It was critical to SickKids that considerations for staff and learner wellness were integrated into every design decision from the outset. Too often in workplace design, these needs are put secondary, but with the new PSC, we want to demonstrate that when you prioritize the wellbeing of the end user, they are empowered to do their best work."