Patient outcomes and operational efficiency supported by rubber flooring
by Katie Daniel | May 18, 2018 10:41 am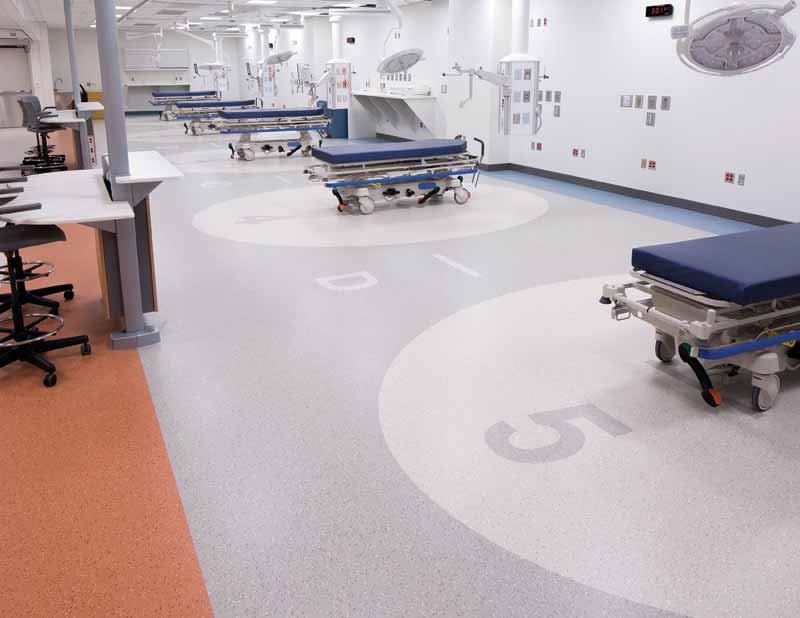 By Sandra Soraci, EDAC, LEED AP, NCIDQ, and Tasha Hughes
Not long ago, design drivers focused on esthetics and price when it came to the selection and specification of floorcoverings in healthcare facilities. Floors are a vital part of the palette supporting interior designers' visions and allowing them to adhere to project budget constraints. Decisions pertaining to flooring and its performance characteristics have evolved, and are now far more complex, often guided by an evidence-based design strategy acknowledging a link between the physical environment, materials specified, and patient and staff outcomes.
Floorcoverings are now being evaluated according to a new set of design and performance criteria. They still need to adhere to budget guidelines, and must have esthetic appeal, since they contribute to visitors' first impressions of a space and shape opinions about the quality of care. However, they must also support clinical efficiency—including effective maintenance, safety, and operational optimization (i.e. the ability to still be able to turn a patient room without it being affected by flooring maintenance)—via performance characteristics impacting patients and staff.
Premium rubber flooring has remained a strong choice. It addresses barriers—including the ability to clean a patient room, acoustics, safety, patient experience, musculoskeletal health, caregiver retention, health and wellness, indoor air quality (IAQ), and ease of maintenance—in the built environment and offers multiple performance characteristics to healthcare professionals and their patients.
The Resilient Floor Covering Institute (RFCI) defines "resilient" as vinyl composition tile (VCT), sheet vinyl, luxury vinyl tile (LVT), linoleum, and rubber. Therefore rubber is one form of resilient flooring. However, all rubber floors are not created equal. A premium rubber floor has no factory-applied finish, never needs coating regardless of service line location, and cleans with little more than water. Other rubber floors can require a coating based on location or come with a coating to avoid damage as the surface density has vast differences affecting stain resistance, the floor's restorability and repairability, and cost of ownership.
Composition materials and differences in manufacturing processes result in floors differing in appearance and ability to meet the performance demands of a healthcare facility. Premium rubber flooring is a combination of high-quality rubber, raw mineral materials extracted from natural deposits, and environmentally compatible colour pigments with manufacturing processes that create a single homogenous product free of layers. Together, these materials and processes ensure the safety, durability, surface density, stain resistance, maintenance, and reparability of floors contributing to positive patient and staff outcomes.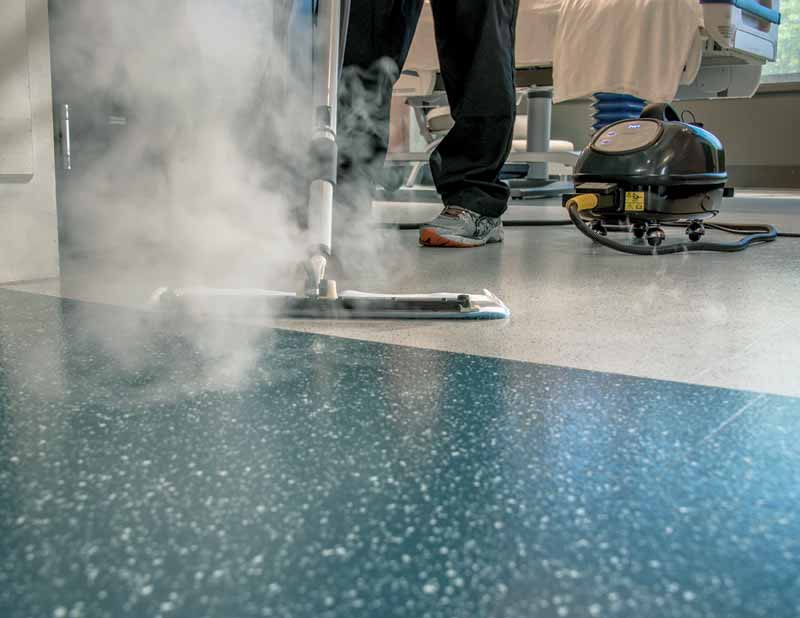 Flooring contributes to performance improvement goals
In a 2012 research study, the Center for Health Design in Concord, CA, identified eight performance characteristics defining the impact flooring has on operations, health, safety, and wellness. (For more, see 2012's "Achieving EBD Goals Through Flooring Selection and Design" by U. Nanda, E. Malone, and A. Joseph with the Center for Health Design.)
This evidence-based design approach defined how flooring can reduce:
slips, trips, and falls;
patient and staff injuries associated with falls;
noise levels;
staff fatigue;
surface contamination and potential risk of healthcare-acquired infections (HAIs); and
complaints about IAQ.
Falls impact recoveries
Premium rubber flooring can offer actionable solutions addressing these performance goals as they contribute to the creation of safer spaces. In terms of reducing slips, trips, and falls, the Centers for Medicare and Medicaid Services (CMS)—a federal agency within the United States Department of Health and Human Services (HHS)—identify falls as preventable events that should not have occurred. Nevertheless, they are common adverse events in hospitals. Between 30 and 35 per cent of patients who fall sustain an injury, resulting, on average, in 6.3 days tacked on to the hospital stay. (More information is available at www.centerfortransforminghealthcare.org/assets/4/6/CTH_Prev_Falls_Fact_Sheet_072815.pdf[3].)
This results in a direct cost to the health system and also affects its safety rating. According to The Joint Commission's (TJC's) Preventing Falls with Injury project, the cost for a fall with injury in U.S. healthcare facilities is about US$14,056. (See "Preventing Falls and Fall-related Injuries in Healthcare Facilities" at www.jointcommission.org/assets/1/18/SEA_55.pdf[4]. More information is also available in "The Cost of Serious Fall-related Injuries at Three Midwestern Hospitals," by C. Wong et al in The Joint Commission Journal on Quality and Patient Safety.)
To assess slip-related safety, one needs a slip-resistance test method, and a minimum numerical safety criterion, to apply to the results. If the floor is likely to be lubricated with water or grease it needs to be safe (i.e. anti-slip or non-skid) under the expected conditions of use. Dry slip-resistance is not an indicator of wet slip-resistance—in fact, they often vary inversely—so valid wet slip-resistance testing is often needed. Most resilient systems are not defined as non-slip, slip-proof, or anti-skid. Industry guidelines require a 0.5 coefficient of friction (CoF) per ASTM D2047, Standard Test Method for Static Coefficient of Friction of Polish-coated Flooring Surfaces as Measured by the James Machine. Every floor meets the criteria; however, the CoF can be compromised when the floor is coated or waxed. At that time one is no longer walking on the floor but on the coating. For premium rubber, a never-coated floor, the CoF goes up to 0.76 to 0.95 when wet, which is one of the best CoFs attained for a resilient floor supporting overall safety and the four factors of slip, trip, fall, and resulting injury.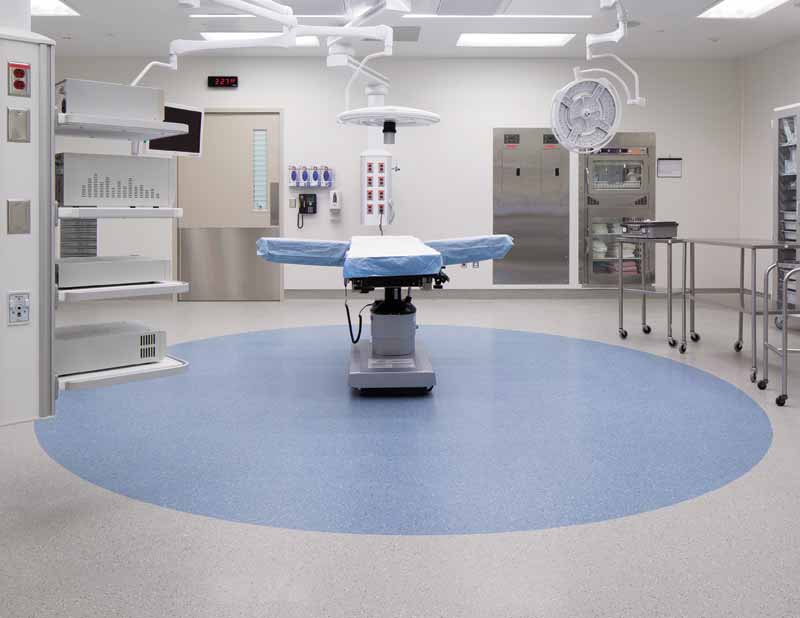 Rubber flooring reduces likelihood of slips and falls
Three flooring-related qualities impact fall prevention: slip resistance, glare, and light reflectance value.
As it relates to patient and caregiver safety, the flooring material, finish, type of maintenance, and CoF should also be carefully considered when evaluating flooring products.
The slip-resistant properties of rubber flooring reduce the likelihood of slips and falls. In the case of premium rubber flooring, the floor may even exceed Occupational Safety and Health Administration (OSHA) recommendations for slip resistance, providing extra traction.
Should a fall occur, the resilience of rubber flooring cushions the fall and can possibly reduce the likelihood of serious injury.
For premium rubber, this goes back to the manufacturing process in the vulcanization and cross-linking of materials, which has resiliency and elasticity. The resulting surface density fosters safety (CoF wet/dry), ergonomics, and acoustics. VCT always has to be waxed and a factory-applied coating on linoleum, sheet vinyl, or LVT will not sustain the useful life of the product.
This feature is most appealing for patients using canes and walkers, as well as orthopedic patients working to regain their balance and ability to walk. Those in wheelchairs (and the nurses who push them) will also find it easier to manoeuvre chairs across premium rubber flooring. In fact, the floor's low resistance to wheeled equipment reduces the possibility of staff over-exertion who regularly move carts, equipment, chairs, supply carts, and patient beds.
Glare and high gloss, often due to layers of wax, can also negatively impact safety. The average age of the typical inpatient population is 65, while a caregiver's average age is 55. Glare can alter cognitive perception for these populations, and visual acuity with the ageing eye can be a trip hazard. This is because when a surface is perceived as slippery, patients may change their gait or walking speed, which modifies the amount of surface contact to the floor. As a result, the non-glare finish of rubber flooring becomes a safety feature.
Rubber flooring reduces noise
Flooring plays a primary role in transferring the noise of hospital alarms, printers, chair casters, rolling equipment, footsteps, and cleaning equipment. All contribute significantly to sound levels in the healing environment, which have long been a source of complaints.
Evidence-based research studies show noise also has a direct, measurable, and negative impact on healing. (For more, visit www.sciencedirect.com/science/article/pii/S0360132312001758[6] and www.interiorsandsources.com/article-details/articleid/20950/viewall/true?title=the%20art%20of%20healing%20spaces%20that%20perform[7].) Noise can cause sleep disruption, which slows wound healing and increases the need for medication. So pervasive is the issue of noise, the Hospital Consumer Assessment of Healthcare Providers and Systems (HCAHPS) patient satisfaction survey asks, "During this hospital stay, how often was the area around your room quiet at night?" This question consistently receives the lowest patient scores in health systems. (For more on acoustics in hospitals, visit www.healthcaredesignmagazine.com/architecture/quiet-design-exploring-hcahps-findings[8].)
Noise has also been associated with undue stressors negatively impacting caregivers and can be error-provoking. It can irritate nurses, increase cognitive fatigue, hasten emotional exhaustion and burnout, and contribute to retention issues and communication difficulties.
Evidence-based research suggests among common healthcare flooring surfaces, rubber generally produces the least impact noise. (This research can be found in B. Davenny's January 2010 piece, "Auditory Assistance: Strategies to reduce hospital noise problems" in Health Facilities Management.) Absorbent, acoustic rubber flooring can reduce footfall sound. Those tasked with specifying a floorcovering should properly compare impact insulation class (IIC) and delta impact insulation classification (ΔIIC) values among various resilient flooring manufacturers.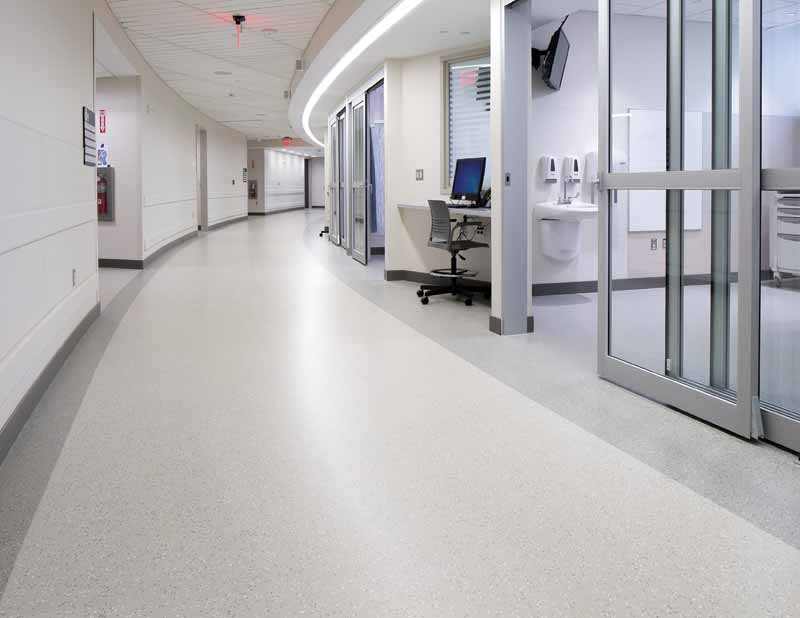 Fatigue impacts staff performance
The causes of exhaustion among staff are not limited to noise. For caregivers and members of the housekeeping staff, hard, unforgiving flooring surfaces can perpetuate physical fatigue and negatively impact performance by limiting the ability to perform personal and work-related activities. Musculoskeletal injuries are chronic in nature, and the result can be reduced productivity and increased absenteeism, opportunities for errors, and costs associated with workers' compensation, retraining, and retention.
Premium rubber is especially resilient, easing the stress of walking and standing while ensuring comfort underfoot and allowing nurses to concentrate on their patients rather than the pain in their feet.
HAIs and maintenance needs
When it comes to creating safer spaces, healthcare settings demand flooring that can be efficiently cleaned and disinfected. A Centers for Disease Control and Prevention (CDC) survey, based on a large sample of U.S. acute-care hospitals, found one in 25 hospital patients had at least one HAI. (Visit www.cdc.gov/hai/surveillance/index.html[10] for more.) A separate CDC study of medical costs estimates the overall annual direct medical costs of HAIs to U.S. hospitals ranges from $35.7 to $45 billion. (More on this study is available at www.cdc.gov/hai/pdfs/hai/scott_costpaper.pdf[11].) Thus, it is important to note the performance characteristics of extremely dense, closed-surface premium rubber flooring, which is inherently dirt-repellent, and neither serves as a media to micro-organisms nor encourages or produces bacteria. This allows it to support the drivers of infection control in the built environment.
Additionally, premium rubber flooring does not contain any added antimicrobials, which means the flooring is free of pesticides and chemicals. Antimicrobials have two major uses:
to disinfect, sanitize, reduce, or mitigate the growth or development of microbiological organisms; and
to protect inanimate objects (e.g. floors and walls) from contamination, fouling, or deterioration caused by bacteria, viruses, fungi, protozoa, or algae.
However, in a 2003 study, CDC stated, "There is no evidence to suggest products with added antimicrobials prevent disease." (Visit healthybuilding.net/news/2014/01/08/fda-acts-on-antimicrobials[12] to read more.)
Following up on this report, Kaiser Permanente, an integrated managed care consortium based in Oakland, CA, consulted with infectious-disease experts. The infection prevention community agreed with CDC's findings that properly cleaning and disinfecting surfaces will kill pathogens effectively and mitigate the risk of spreading HAIs. As a result, in 2015, Kaiser banned 15 antimicrobial chemicals and elements as additives to furnishings and finishes in the built environment as a component of its Environmentally Preferred Purchasing (EPP) program. (More information is available at share.kaiserpermanente.org/article/kaiser-permanente-rejects-antimicrobials-for-infection-control[13].)
In the absence of these antimicrobials, proper maintenance of floorcoverings becomes even more critical. Maintenance is a key area where specification of premium rubber flooring improves safety, as well as clinical and operational optimization. An automatic scrubber can clean and buff rubber floors rapidly by applying water to the floor via a scrubbing pad and then squeegeeing the water off the floor, leaving a clean, dry floor in about the same amount of time it takes to mop. This process eliminates the need for chemicals in cleaning and improves IAQ in support of health and wellness.
Further, premium rubber floors do not require the labour-intensive application of coatings or waxes. The absence of finishes and other chemicals benefits everyone in a healthcare setting, especially those who might be sensitive to smells or suffer from allergies these products aggravate. It also means there will not be a need to move patients or close large areas of a facility for an extended period while floors are cleaned and coatings or waxes are applied and allowed to dry. This is especially important given healthcare is a 24/7, 365-day operation.
Additionally, the introduction of a steam-cleaning system gives facilities and environmental service teams the ability to clean the floor while an area is occupied, increasing flexibility, reducing disruption to clinical work, and improving patient perception.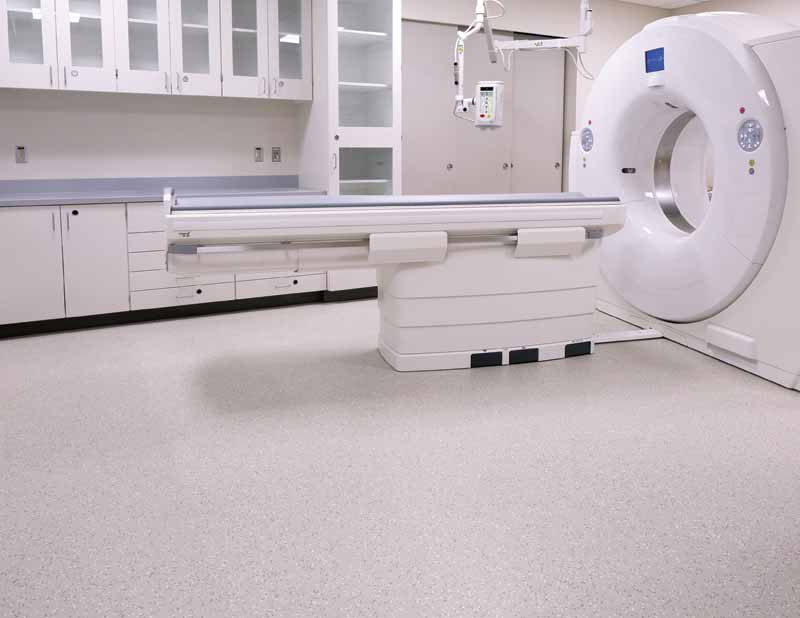 Improving indoor air quality
In addition to maintenance efficiencies, the reduction of harsh cleaning chemicals, coatings, waxes, and strippers may also improve IAQ, which has a direct impact on health and wellness. Flooring selected for healthcare facilities should meet stringent standards for low volatile organic compound (VOC) emissions, including Greenguard Gold certification. This certification tests for 365 chemicals, and includes a total VOC (TVOC) measurement.
Life-cycle costs
An analysis of VCT, sheet vinyl, carpet, rubber, and linoleum flooring conducted by one group of Florida healthcare facilities studied the life-cycle costs of those materials over a 15-year period. (Read more at www.interiorsandsources.com/article-details/articleid/6130/title/rubber-flooring-value-and-beauty-for-the-long-term[15].)
The study found VCT to be the least-expensive "first-cost" material, but its maintenance protocol costs can still be nine to 15 times the cost of the installed flooring due to finish requirements and the associated maintenance labour. Sheet vinyl and carpet also had high life-cycle cost factor. No-finish sheet vinyl was better.
The same study found of the products tested, rubber flooring had the lowest cost per area over the 15 years. This fact, along with the material's performance characteristics, allows rubber floorcovering to offer excellent return of investment (ROI).
Conclusion
Premium rubber flooring is a solution supporting designers' esthetic design intentions, healthcare administrators' safety and maintenance requirements, caregivers, and—perhaps most importantly—patients and their families. Premium rubber flooring and its inherent attributes offer operational optimization. It also enables better patient/caregiver outcomes, while offering a solution best supporting the link between the physical environment, and patient and caregiver well-being, fostering human-centric needs in a healthcare environment.
Sandra Soraci, EDAC, LEED AP, NCIDQ, is the marketing leader, healthcare solutions, for Nora systems. She has been a healthcare designer and thought leader for more than 20 years. As a designer, Soraci's mission is to collaborate with and support the challenges Nora's healthcare partners are faced with. She can be reached via e-mail at sandra.soraci@nora.com[16].
Tasha Hughes is a public relations and marketing specialist for Nora systems, an international rubber flooring manufacturer dedicated to developing premium flooring solutions for various commercial markets, including healthcare, education, industry, life science, labs, and public buildings. She can be reached at tasha.hughes@nora.com[17].
Endnotes:
[Image]: https://www.constructioncanada.net/wp-content/uploads/2018/05/ReadingHosp-1.jpg
[Image]: https://www.constructioncanada.net/wp-content/uploads/2018/05/01-nora-pro-steamer.jpg
www.centerfortransforminghealthcare.org/assets/4/6/CTH_Prev_Falls_Fact_Sheet_072815.pdf: http://www.centerfortransforminghealthcare.org/assets/4/6/CTH_Prev_Falls_Fact_Sheet_072815.pdf
www.jointcommission.org/assets/1/18/SEA_55.pdf: http://www.jointcommission.org/assets/1/18/SEA_55.pdf
[Image]: https://www.constructioncanada.net/wp-content/uploads/2018/05/ReadingHosp-4.jpg
www.sciencedirect.com/science/article/pii/S0360132312001758: http://www.sciencedirect.com/science/article/pii/S0360132312001758
www.interiorsandsources.com/article-details/articleid/20950/viewall/true?title=the%20art%20of%20healing%20spaces%20that%20perform: http://www.interiorsandsources.com/article-details/articleid/20950/viewall/true?title=the%20art%20of%20healing%20spaces%20that%20perform
www.healthcaredesignmagazine.com/architecture/quiet-design-exploring-hcahps-findings: http://www.healthcaredesignmagazine.com/architecture/quiet-design-exploring-hcahps-findings
[Image]: https://www.constructioncanada.net/wp-content/uploads/2018/05/ReadingHosp-2.jpg
www.cdc.gov/hai/surveillance/index.html: http://www.cdc.gov/hai/surveillance/index.html
www.cdc.gov/hai/pdfs/hai/scott_costpaper.pdf: http://www.cdc.gov/hai/pdfs/hai/scott_costpaper.pdf
healthybuilding.net/news/2014/01/08/fda-acts-on-antimicrobials: http://healthybuilding.net/news/2014/01/08/fda-acts-on-antimicrobials
share.kaiserpermanente.org/article/kaiser-permanente-rejects-antimicrobials-for-infection-control: http://share.kaiserpermanente.org/article/kaiser-permanente-rejects-antimicrobials-for-infection-control
[Image]: https://www.constructioncanada.net/wp-content/uploads/2018/05/ReadingHosp-3.jpg
www.interiorsandsources.com/article-details/articleid/6130/title/rubber-flooring-value-and-beauty-for-the-long-term: http://www.interiorsandsources.com/article-details/articleid/6130/title/rubber-flooring-value-and-beauty-for-the-long-term
sandra.soraci@nora.com: mailto:sandra.soraci@nora.com
tasha.hughes@nora.com: mailto:tasha.hughes@nora.com
Source URL: https://www.constructioncanada.net/patient-outcomes-and-operational-efficiency-supported-by-rubber-flooring/
---