Partenord Habitat Plot to bring Lille, France into 'third industrial revolution'
by jason_cramp | July 27, 2021 6:08 pm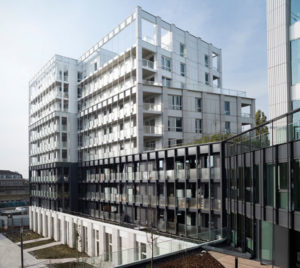 Coldefy seeks to bring Lille, France, into the third industrial revolution through a mixed-use project, including the headquarters of Partenord Habitat (Nord Department Public Housing Office), offices, housing, and shops.
Coldefy is an architecture and urban planning firm based in Lille, which has previously won the Hong Kong Design Institute's international competition.
Their project is situated on a plot in a strategic location at the entrance to the city of Lille, at the corner of Rue de Cambrai and Boulevard de Belfort. The building emerges from the ground along both roads in three distinct sections: the offices, the headquarters, and the housing, all tied together with a shared foundation.
The project includes:
50 rented housing units;
A collection of rented offices, divided into seven office spaces;
Five retail units on either side of the headquarters;
The Partenord Habitat headquarters; and
A car park with 232 underground parking spaces for housing, rented offices, and headquarters.
The project offers a duality between the bold urban façades and the centre of the block. Sheltered from the busy city, the project is a place for users to relax; the multiple balanced outdoor spaces offer pleasant settings for users, tenants, employees, and retailers, looking out onto a biodiverse environment.
The building is decorated with various sizes and styles of terracotta cladding. Along Boulevard de Belfort is an urban window with three sides of reflective glass acting as a mirror reflecting the city.
More than architectural touches, the systems in place offer functional qualities tailored to each project. The simple urban façade establishes structural and functional integrity to meet project requirements.
The building will recover and store grey water and excess energy, use renewable energies like solar panels, and optimize electricity consumption with digital radiators. Eighty per cent of the rental housing's winter heating requirements will be covered by the headquarters' surplus heat recovery.
Endnotes:
[Image]: https://www.constructioncanada.net/wp-content/uploads/2021/07/Coldefy.jpg
Source URL: https://www.constructioncanada.net/partenord-habitat-plot-to-bring-lille-france-into-third-industrial-revolution/
---