Parliamentary privileges
January 25, 2017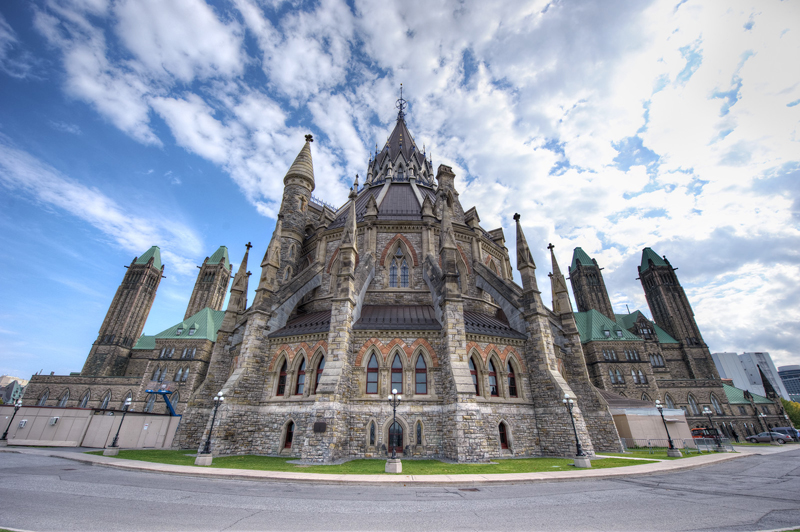 By Brian Burton
"When you come to Parliament on your first day, you wonder how you ever got here. After that, you wonder how the other 263 members got here," said John Diefenbaker while addressing the Canadian speaker's forum, the Empire Club, during the Canadian flag debate in 1967.
Diefenbaker, along with Lester Pearson, compared the Parliament Buildings to an ancient family mansion that has been lived in for centuries and must be maintained and preserved for future generations at any cost. In the time it takes to read this article, some of the more than 200 skilled masons currently working on rehabilitating Canada's Parliament Buildings will have time to rake out and re-point another kilometre of mortar and complete another 'Dutchman repair' or stone indent repair on these enduring Canadian landmarks. This rehabilitation project will be discussed in this three-part series of articles.
A Canada with no capital
The original design and construction of Canada's Parliament Buildings were uniquely Canadian undertakings in all respects. This remarkable group of buildings, which began as the 'Provincial Buildings Project,' did not proceed without its share of conflicts, heated debates, and controversies, as the official record clearly shows.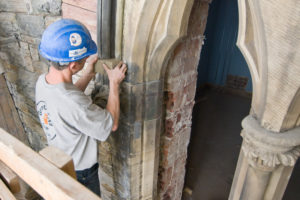 As the Dominion of Canada approached the end of 1867, it had no permanent capital, and its parliamentary government had no fixed home. Acting on local advice, Queen Victoria exercised 'royal prerogative' and solved these problems by naming Ottawa as the seat of government in 1857. Officials moved quickly thereafter to requisition funds, hire architects, award contracts, and break ground after clearing off the structures remaining on what was known locally as 'Barrack Hill.' Overlooking the Chaudière Rapids on the Ottawa River—one of the gateways to the continent when canoes were the primary mode of transport—this area had previously served well as the site offices for the construction of the Rideau Canal under the direction of Colonel John By, from 1826 to 1831.
With the location of the capital finally established after moving it from one city to another for decades, workers were soon removing the small, self-contained village left behind by the Rideau Canal 'sappers and miners.' In May 1859, a competition was launched to find architects for the Parliament Buildings, with a deadline of August 1. Although no specific theme was specified in the design competition announcement, Public Works did suggest the buildings' edifices feature hammer-dressed masonry, materials local to Ottawa, neatly pointed features, and a plain, substantial style.
These suggestions, intended to provide direction to those interested in the advertisement for anonymous submissions, indicated the government's intention to construct buildings with a focus on austerity, simplicity, and the use of indigenous materials.
Open competitions of this nature were intended to encourage innovation and excellence, and were common for government buildings at the time. Although the government did not specifically indicate any preferences for architectural influence or character, its request for a 'substantial' style implies, to a certain degree, the need for quality and attention to detail. Other government and legislative buildings constructed in Ontario and Manitoba, as well as several religious and judicial buildings, were similar in their predominant use of indigenous, locally available natural stone and other basic construction materials.
Design submissions were evaluated in accordance with an adjudication system awarding points in 10 different categories, including:
fitness of plan/interior arrangements;
economy of construction, warming, ventilation, and lighting;
adaptation to local materials, site, and climate;
beauty of design; and
safety against fire.
Although some official sources say 32 design concepts were submitted, other references suggest the total numbered more than 200. It is believed at least some of the design formulations were similar in some respects to buildings recently constructed in Québec City and Toronto.1
In the end, plans from two different architectural firms were chosen and approved by Canada's Governor General. The Gothic Revival-style drawings of Thomas Fuller and Chilion Jones were used for the Centre Block and the Library, while those of Thomas Stent and Augustus Laver—similar in style to the first set—were used for the East and West Blocks.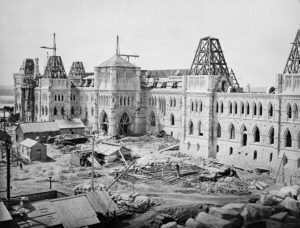 Researchers have been unable to clearly identify a statement of accommodation set forth for the design of the buildings. A statement or design guideline of this nature, if prepared today, would likely outline the need for edifices supporting the function and administration of our parliamentary political process.
The Parliamentary Precinct and the buildings contained within have succeeded in doing the above to an exceptional degree. Although they were "constructed with great haste,"2 they demonstrate remarkable quality, attention to detail, and craftsmanship.
Shortcomings exhibited by the buildings over time can be traced to limitations regarding provision of occupant requirements and expectations, resulting from the country's remarkable and sustained growth over time. It is also possible some faults may be somewhat more conspicuous given the continuous innovation that has occurred in construction, construction technology, and building science since the buildings were first designed and constructed.
Looking back, it is apparent the buildings were unable, within the prescribed budget, to provide the space and levels of occupant comfort typically taken for granted today. When the buildings were commissioned, they had no telephones or HVAC comparable to typical modern installations. There was only one operator-assisted elevator and, for the most part, low concern for security arrangements.
Conclusion
The Parliament Buildings' design and initial construction required an exceptional collaborative effort on the part of Canadian construction professionals. This also held true when disaster struck in 1916 and most assets were consumed by fire in the middle of the First World War—professionals had to regroup, rebuilding these structures from scratch.
The design and construction of the Parliament Buildings is extraordinarily well-documented, and the buildings and site continue to evolve and change as time passes—something to be grateful for, although we cannot afford to be complacent. It is crucial to continue efforts to rehabilitate and preserve the buildings—thus, the next instalment in this series will highlight some of the challenges to be faced in the future.
Notes
1 Several government employees responsible for the construction of these buildings responded to official enquiries regarding the methodology used to determine their approximate cost estimates. This estimating methodology held some similarities to the Québec and Toronto buildings mentioned.
2 To obtain this information, the author went to the Library and Archives of Canada and inspected the actual advertisements that were placed in newspapers at the time. This particular quotation comes from Carolyn A. Young's The Glory of Ottawa: Canada's First Parliament Buildings, published by McGill-Queen's University Press in 1995.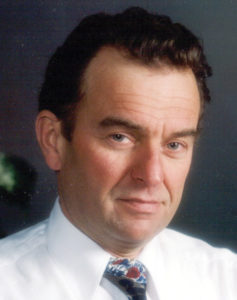 [4]Brian Burton has written and co-authored several feature articles for Construction Canada, covering topics ranging from the possible effects of climate change[5] on our built environment to the revitalization of Toronto's Maple Leaf Gardens[6]. He is a Canadian General Standards Board (CGSB) Certified Construction Inspector, and has published more than 300 articles in Canadian, U.S., and international publications. Burton served on the technical committee that prepared CSA's new certification program for fenestration installation technicians, and is a member of the International Network for Traditional Building, Architecture, and Urbanism (INTBAU) and Association for Preservation Technology (APT). He also publishes articles on his site[7]. Burton can be reached via e-mail at blueblade49@gmail.com[8].
Endnotes:
[Image]: https://www.constructioncanada.net/wp-content/uploads/2017/01/photo7.jpg
[Image]: https://www.constructioncanada.net/wp-content/uploads/2017/01/photo2.jpg
[Image]: https://www.constructioncanada.net/wp-content/uploads/2017/01/photo25.jpg
[Image]: http://www.constructioncanada.net/wp-content/uploads/2017/01/BrianBurton_headshot-copy.jpg
climate change: http://www.constructioncanada.net/designing-buildings-for-climate-change/
Maple Leaf Gardens: http://www.constructioncanada.net/making-history-again-repurposing-maple-leaf-gardens/
site: http://burtons-pen.com
blueblade49@gmail.com: mailto:blueblade49@gmail.com
Source URL: https://www.constructioncanada.net/parliamentary-privileges/
---