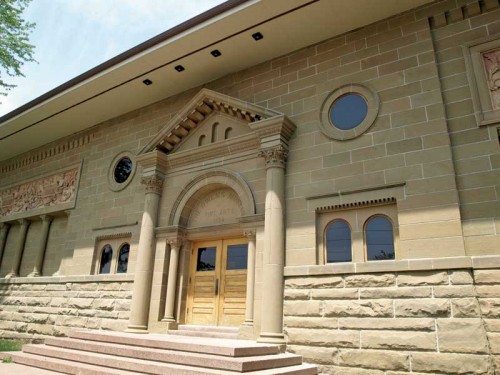 By Paul Jeffs
Located on Mount Allison University's campus in Sackville, N.B., the Owens Art Gallery is the oldest university art gallery in Canada. (The author would like to thank Mount Allison University for permission to use the campus building as a case study for this article). Officially opened in 1895, the gallery was designed in the elegant Beaux-Arts style by highly regarded Toronto-based architect, Edmund Burke (Figure 1). Locally quarried and fabricated olive sandstone was used to construct the traditional mass masonry exterior walls, and decorative terra cotta friezes bearing the names of famous artists were incorporated within the front and side elevations and supported on circular sandstone columns.
Originally, the building served the community with a regionally renowned art gallery and museum and also housed the university's learning centre for fine arts. However, in the early 1970s, the fine arts department was transferred to an adjacent newly constructed facility and the old building was upgraded to provide its predominant use as an art gallery. The major renovation work included:
the ground floor was jacked up, levelled, and had its rotted timbers replaced;
the interior room and gallery configuration was completely redesigned;
a modern HVAC system was installed;
the rear wall was relocated back by a few metres and a new entrance was added; and
the roof was replaced using a redesigned structural steel support structure (Figure 2).
Post-renovation cracking
Some time after rehabilitation of the gallery, cracks within masonry walls and columns supporting the friezes became evident and began to propagate over time (Figure 3). By the mid-90s, it was determined the roof reconstruction work had most likely changed how loads were distributed and had resulted in an overload condition, predominantly within the exterior wythe of masonry. There was also some evidence of lateral movement of some masonry units, as well as some out-of-vertical plane displacement.
Since it was also determined rainwater entering cracks over time could have caused deterioration of the inner core rubble within the masonry walls, it was considered likely voids had been formed. These would likely have contributed to an overload condition within the exterior wythe, thereby exacerbating the cracking and creating a destabilized condition.

Control the content you see on ConstructionCanada.net!
Learn More.