Open plenums: Optimizing metal and wood ceiling systems
by brittney_cutler_2 | July 13, 2022 4:00 pm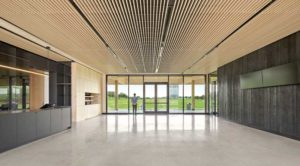 By Robert Marshall
Open space design is ubiquitous in modern interiors. In everything from open plan offices to communal areas in educational facilities to large hospitality spaces, the airiness of open space has been used creatively to promote collaboration, support learning, inspire creativity, or foster relaxation for the occupants who work, learn, play, and interact in these environments.
However, for all its visual power—and budget-friendliness in the building process—open space comes with a unique set of performance challenges that must be addressed to create interiors that meet esthetic goals and the ever-evolving demands of occupant comfort.
Adaptive reuse of historic buildings has remained a consistent architectural trend over the past two decades and beyond, with open space being a centrepiece of the design as older factories and warehouses with open floor plans are converted into offices, studios, or retail spaces. In instances like these, when a building's function is fundamentally changed from its original intent to serve new occupant purposes, unforeseen challenges can arise.
Esthetic intents often collide with architectural realities, especially when, as is often the case with historic structures, acoustically reflective materials like glass, concrete, and metal maintain a significant presence to contribute to the visual theme. Noise control was not typically part of the design consideration when many of these buildings were constructed, and now that they are being used for offices and commercial spaces which require varying degrees of privacy and quiet, optimizing acoustics is paramount.
These challenges are not exclusive to older structures, however. New commercial construction is also often designed with open plans and open plenums, which provide industrial flair but often lead to uncomfortable acoustic environments as unwanted noise travels unencumbered by walls and partitions. Glass, wood, metal, polished stone, concrete, and other reflective surfaces are also ever-present in newer buildings, which further exacerbates the problem.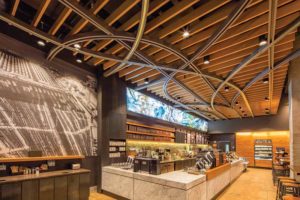 Innovative solutions to old challenges
In the past, wall-to-wall suspended ceilings were typically selected for acoustic control and hiding unsightly building mechanicals. That said, wall-to-wall suspended ceilings are often not visually desirable or practical in open spaces.
Fortunately, there are innovative open plenum ceiling systems on the market that can help overcome performance challenges without compromising esthetics or blowing the budget. Strategic use of open plenum ceiling formats can create show-stopping visuals in open spaces while optimizing acoustics, integrating with lighting, allowing easy plenum access, and cleverly masking HVAC, plumbing, and electrical components.
Despite all this, there are several factors architects must consider when specifying for open plenums.
The importance of form
Form is the first consideration to weigh for the overall performance of the ceiling solution.
When it comes to open plenum solutions, alternatives to traditional suspended ceilings include beams or baffles—free-hanging vertical ceiling elements that can be suspended to create elegant lines and eye-catching designs across ceiling and wall planes; clouds or canopies—free-hanging ceiling solutions, which horizontally suspend stylish lines and soft shapes from ceilings to absorb sound for an unequalled acoustical performance; and open cell, which are a decorative option that allows the visual of an open structure design while providing easy access to lighting and mechanicals above. Each have their place, but the solution that is right for the specific application depends on the project's overall esthetic and performance goals.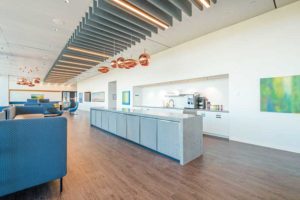 Free hanging elements like baffles and clouds, for example, can be fully finished on all sides for multi-directional sound absorption, so they behave differently than a traditional lay-in ceiling. Typically, 50 to 60 per cent coverage with baffles or clouds will offer similar acoustical performance to a wall-to-wall fibreglass ceiling. That means fewer panels—nearly half—are needed to achieve the same acoustic attenuation that traditional suspended ceilings offer.
Visually, beams, baffles, clouds, cells, and canopies all create a design-forward open plenum look that directly supports the overall esthetic of open plan design. Some specific product lines are distinctive enough to become the centrepiece of the design theme itself.
The landscape of lengths, widths, heights, profiles, and suspension options available in these ceiling categories is vast.
Some manufacturers offer beams in canted, tiered, and diverging forms for added visual depth and topography, while baffles and clouds can be stacked and angled for a sculptural appeal and enhanced sound absorption. Baffles are even available in profiles like waves and zigzags and orientations like horizontal and vertical curves, all of which can be used to add a playful sense of movement and rhythm to the plenum space.
Open cell formats can be specified in a range of interlocking squared patterns that offer depth and dimension while creating islands, peninsulas, and other modules to frame and define specific areas of visual interest.
All these forms also offer quick plenum access, lighting integration, and the versatility to be strategically positioned to conceal HVAC ductwork, plumbing, and electrical lines so they avoid diminishing the esthetics of a space.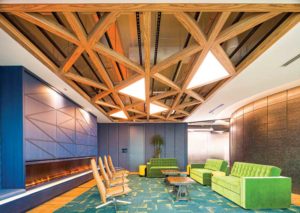 Material matters
Among the various forms of open plenum solutions available, the material makeup of the ceiling product also greatly affects the esthetics and functionality.
Manufacturers offer a variety of ceiling materials suitable for open space design. Wood and metal marry particularly well with the contemporary, industrial style of open plenum looks while the array of finish options in these two categories can achieve visuals that range from cool and contemporary to warm and biophilic.
Some ceiling materials, such as fibreglass and felt, are inherently sound absorbent. Since metal and wood are acoustically reflective surfaces, they are not the first solution designers think of when approaching acoustical design in open spaces.
However, thanks to modern innovations in ceiling product design, typically non-absorptive surfaces like metal and wood can be perforated and combined with sound-absorbent materials to achieve noise reduction coefficient (NRC) values of 0.70 and higher, creating solutions that have the desired combination of esthetics and acoustic traits.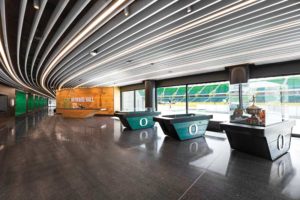 Metal ceilings: Cool, contemporary, and versatile
Metal is a highly versatile material that offers the utmost creative freedom with a wide range of colours and finishes across beams, baffles, and cloud formats for open plenums.
Manufacturers offer a full spectrum of colours from vibrant hues and custom colour matching to shades of black and white. Lighter finishes, such as natural metal or white can increase daylighting in interiors, thanks to higher light reflection values.
One of the most notable features of metal ceiling systems is they can take on the look of decidedly non-metal materials. Metal systems can be clad in real wood veneer or finished with a decorative wood look for a more natural esthetic.
While metal itself is not inherently sound absorbent, certain metal products can be perforated and accompanied by acoustical infill to achieve high sound absorption and stronger acoustical performance. Selecting a product with this capability is essential to increase acoustic properties for metal ceilings.
In addition to their acoustical capabilities, metal beams and baffles are particularly geared for performance by allowing easy plenum accessibility and a variety of installation options. From a practical standpoint, a key feature of beam and baffle systems is their integration with a standard heavy-duty 24-mm (0.94-in.) T-grid system that allows for easy installation. This is the same type of system used for traditional suspended ceilings. Beams mount via hidden scissor clips to enable single-beam access to the plenum as well as freedom from fixed modular assemblies.
These design characteristics make metal an excellent solution for a wide variety of applications: corporate offices, hospitality and event spaces, retail outlets, restaurants, schools, and more.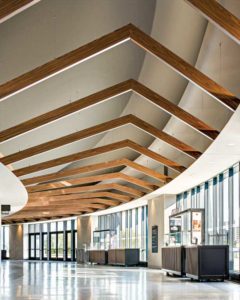 Wood ceiling systems: Design done naturally
With its rich warmth and depth, wood brings the beauty of nature indoors, creating a direct visual connection between interiors and the world outside. Architectural wood ceiling systems range from familiar forms with options for customization to fully engineered custom acoustic solutions, making it easy to give any space on any budget a sense of biophilic style.
Prefabricated wood ceiling forms can be constructed of solid wood or clad in veneers such as cherry, red oak, walnut, and bamboo. Designers can also exert more creative control over their installations with custom toning, sheening, and colour-matching, among other wood finishes.
Like metal, wood does not inherently absorb sound, but some wood products can be specified with micro-perforations or grooving patterns along with a sound-absorbing backer or infill to provide acoustic performance. Acoustical absorption characteristics can also be modified by changing the thickness of baffles or the spacing between baffles.
Wood ceilings are also an excellent option for environmentally responsible building. When using wood products in design, the sourcing, sustainability, and fire rating of the wood are always important considerations to ensure environmental responsibility and occupant safety are prioritized.
Many wood products are certified by the Forest Stewardship Council (FSC) as responsibly sourced. Some products also feature high recycled content, are No-Added Urea Formaldehyde (NAUF), and are Fire-Rated Class A for veneers and Class C for solid wood.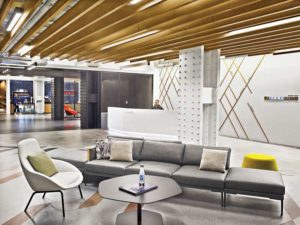 Expanding palettes into an entirely new, creative design territory
Today's metal and wood ceilings expand design palettes into entirely new creative territory, allowing these products to be specified for spaces that were previously reserved only for more traditional ceiling materials.
The industry is brimming with a wide array of metal and wood options that merge stunning visuals with high-performance sound absorption and easy plenum access for a combination which is ideally suited to open plenum applications.
Author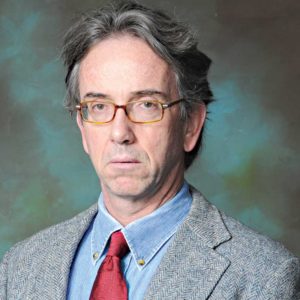 [8]Robert Marshall is senior technical manager for CertainTeed Architectural and has been a ceiling industry professional since 1969. He is the product of one of the world's first acoustic ceiling contracting and distribution businesses; a family-owned company founded nearly 100 years ago in Philadelphia, Pennsylvania. which later became one of the nine member-companies to create the industry trade organization (known today as Ceilings and Interior Systems Construction Association [CISCA]).
Endnotes:
[Image]: https://www.constructioncanada.net/wp-content/uploads/2022/06/4.-Golf-Ile-De-Soeurs-Chalet-Montreal-QC-Canada_Credit-Stephane-Brugger.jpg
[Image]: https://www.constructioncanada.net/wp-content/uploads/2022/06/1.-New-York-Coffee-House_Credit-Bob-Perzel.jpg
[Image]: https://www.constructioncanada.net/wp-content/uploads/2022/06/Cenovus-Energy_1_-Credit-Tyler-A.W.-Burke-Creative-Visual-Works.jpg
[Image]: https://www.constructioncanada.net/wp-content/uploads/2022/06/3.-Accenture-Atlanta_Credit-Studio-66-LLC.jpg
[Image]: https://www.constructioncanada.net/wp-content/uploads/2022/06/5.Hayward-Field-University-of-Oregon_Credit-Mitchell-Stier.jpg
[Image]: https://www.constructioncanada.net/wp-content/uploads/2022/06/2.-Nassau-Veterans-Memorial-Coliseum_Credit-RICHARD-CADAN-PHOTOGRAPHY.jpg
[Image]: https://www.constructioncanada.net/wp-content/uploads/2022/06/6.-LinkedIn-Office-Lobby-New-York_Credit-ERIC-LAIGNEL.jpg
[Image]: https://www.constructioncanada.net/wp-content/uploads/2022/06/Marshall_Headshot.jpg
Source URL: https://www.constructioncanada.net/open-plenums-optimizing-metal-and-wood-ceiling-systems/
---