Inspired in part by the workings of a sundial, the new General Academic and Student Building at Ontario Tech University, Oshawa, Ont., has a crafted building expression designed to play with contrasts.
Designed by Montgomery Sisam Architects with Architectural Counsel as a joint venture partner, the building was designed to respond to sunlight and solar orientation, while serving as a primary connector between different people, places, and programs on campus.
The architects turned to what is typically considered a utilitarian material, concrete, transforming it into a playful expression. The building's primary concrete cladding incorporates only four types of shaped concrete panels throughout the entire structure. However, angled in different manners, the shaped concrete creates a playful exchange between light and shadow, weightlessness and mass, and changes as the solar orientation does during the day.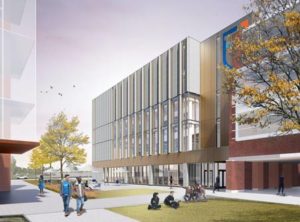 Parts of the building are also purposefully designed to be more highly visible and transparent, while others are meant to be more hidden and tucked away. Take the side facing the campus quad, for example, which is highly visible as one approaches from the exterior, thanks to the amount of activities designed to happen on the interior. On levels 1 and 2, the student union, enhanced-learning, lounge, and study spaces are arrayed around a large open atrium, activating the perimeter, and animating the building frontages.
A feature stair connects the animation of those floors with the lower-level student club space and conference centre. These open, high-traffic functions give way to more private, acoustically sensitive areas on levels 3, 4, and 5 where student life amenities, classrooms, and administrative offices are located with more modest social space typologies for quieter study.
An optimal structure grid was developed and applied to allow inherent flexibility in the floorplan, without compromising access to windows.
Overall, the building delivers 7432 m2 (80,000 sf) of new, technology-enhanced academic, administrative, and student support spaces as well as a range of amenity and social spaces. By integrating vast amounts of natural light, the architectural team's vision was to increase floor-to-floor connections across the space.
The project is in its final stages of construction, with occupancy anticipated in August.