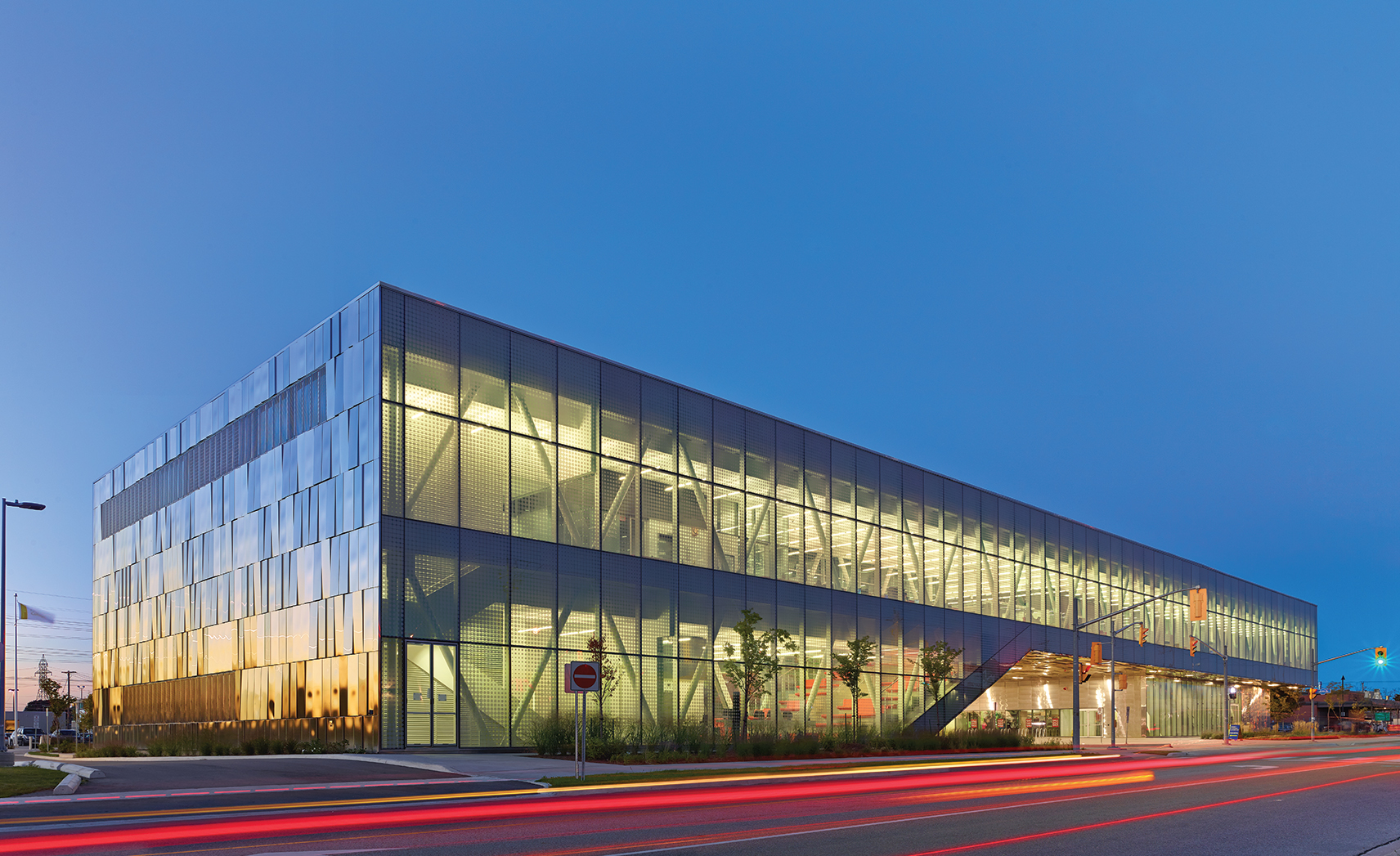 The Canadian Institute of Steel Construction (CISC) awarded projects at its 2015 Ontario Steel Design Awards of Excellence in April.
Held at the Steam Whistle Brewery in Toronto, CISC honoured steel projects showcasing both innovation and excellence in the industry. The categories included architecture, engineering (with subcategories for buildings and bridges), sustainability (steel re-used, recycled, or used as part of a sustainable development project), and projects converted to steel.
Winning the Architectural Award of Merit was Toronto's Centennial College Ashtonbee Campus Renewal project, designed by MacLennan, Jaunkalns, Miller Architects. The 3716-m² (40,000-sf) building features a triple-glazed curtain wall and mounted asymmetrical stainless steel panels. The structural steel truss system provides support for new program space and incorporates a 90-m (295-ft) continuous room along Ashtonbee Road. It targets Leadership in Energy and Environmental Design (LEED) Gold certification.
The Architectural Award of Excellence was honoured to the Brookfield Place Pavilion in New York City, designed by Pelli Clarke Pelli Architects. The structure sits in the city's financial district and is affectionately known as the 'Basketball Nets.' More than 70,000 pedestrians walk under the structure acting as the grand entrance to Brookfield Place. Two spiraling steel basket structures rise 17 m (55 ft) from the ground to support the roof.
The remaining winning projects include:
Breithaupt Block Building One in Kitchener–Sustainability Award of Merit;
Lassonde School of Engineering at York University in Toronto–Converted to Steel Award;
Lee's Avenue Bridge in Ottawa–Award of Excellence in Engineering (bridge subcategory);
Queen Richmond Centre in Toronto–Award of Excellence in Engineering (building subcategory); and
Humber College Building F Addition in Toronto–Engineering Award of Merit.
For more information, click here.