Ontario housing starts increased by 3300 last month
by mbuckstein | July 20, 2011 9:49 am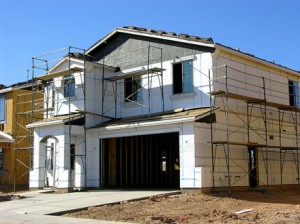 Ontario's June housing starts were up 3300 from May due to an increase in single and multiple starts in the province, according to the Canada Mortgage and Housing Corporation (CMHC).
The seasonally adjusted annual rate of housing starts was 197,400 units in June, from a revised 194,100 units in May.
"The revised numbers show that housing starts have been above their trend line since March," said CMHC's Bob Dugan. "However, we expect housing starts to move back toward levels consistent with demographic fundamentals in the near term."
CMHC also found:
• seasonally adjusted annual rate of urban starts increased by 2.2 per cent to 174,600 units in June;
• urban single starts were up by 11.1 per cent last month to 70,900 units;
• multiple urban starts decreased by 3.1 per cent to 103,700 units; and
• rural starts were estimated at a seasonally adjusted annual rate of 22,800 units.
Endnotes:
[Image]: http://www.constructioncanada.net/wp-content/uploads/2014/06/bigstock_New_Home_Construct_259737.jpg
Source URL: https://www.constructioncanada.net/ontario-housing-starts-increased-by-3300-last-month/
---