Ontario honours excellence in wood architecture
April 30, 2021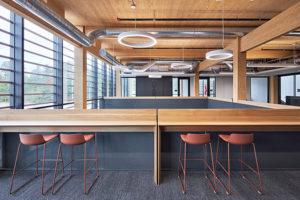 The Canadian Wood Council[2]'s Ontario WoodWorks[3] program and the Ontario Forest Industries Association[4] (OFIA) have recognized six winning projects as part of the Ontario Wood Design Awards program, which showcases excellence in wood architecture throughout the province.
Here are this year's winners:
Canadian Nuclear Laboratories logistics warehouse (Chalk River) by HDR Architects[5];
Toronto Montessori School, Lower School campus (Richmond Hill) by Farrow Partners[6];
Seven Generations Education Institute (Thunder Bay) by Nelson Architecture[7];
SmartVMC Bus Terminal (Vaughan) by Diamond Schmitt Architects[8];
One Young (Toronto) by WalterFedy Architects Engineers[9]; and
Laurentian University Student Centre (Sudbury) Yallowega Belanger Salach Architecture[10].
"The winning projects reflect the innovation of an evolving wood culture that is gaining momentum in Ontario," said Marianne Berube, executive director for the Ontario WoodWorks program. "We are happy to partner with OFIA this year to recognize the design and construction teams that are pushing the boundaries of innovation for wood construction."
The submissions for this year's awards program reflected the advancements in wood research and technology that are diversifying the application of wood in construction. The winning projects offer thoughtfulness in design and execution, highlighting both structural and esthetic benefits.
"The design and construction teams from the winning projects are revolutionizing the way we think about wood in construction," said Ian Dunn, CEO of OFIA. "Growing pressure for the built environment to reduce greenhouse gas [GHG] emissions have resulted in more sustainably conscious building material choices aligning with our members' commitment for sustainable development—meeting the needs of today without compromising the needs of future generations."
Endnotes:
[Image]: https://www.constructioncanada.net/wp-content/uploads/2021/05/canadian-nuclear-labs-logistics-facility-seating-mass-timber_0.jpg
Canadian Wood Council: https://cwc.ca/
WoodWorks: http://wood-works.ca/ontario/
Ontario Forest Industries Association: http://www.ofia.com/
HDR Architects: https://www.hdrinc.com/
Farrow Partners: https://farrowpartners.ca/
Nelson Architecture: https://www.nelsonarchitecture.com/home/
Diamond Schmitt Architects: https://dsai.ca/
WalterFedy Architects Engineers: https://www.walterfedy.com/
Yallowega Belanger Salach Architecture: https://ybsa.ca/
Source URL: https://www.constructioncanada.net/ontario-honours-excellence-in-wood-architecture/
---