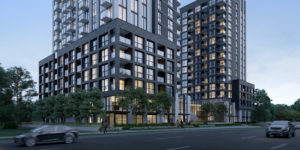 North Oak, an Oakville, Ont., high-rise development by Minto Communities GTA, will debut the developer's first multi-residential geoexchange energy system.
Geoexchange energy systems, which reduce carbon emissions by as much as 70 per cent, are becoming increasingly important solutions to support sustainability, particularly for high-rise properties, Minto Communities said in a press release.
"It is a very proud moment for Minto Communities GTA to launch North Oak, which also marks our first project that will offer community energy through a geoexchange system that significantly reduces carbon emissions and enhances the value provided to our residents," says Roya Khaleeli, director of sustainability and innovation, Minto Communities GTA. "Oakville is a really special town, and our site is surrounded by so much natural beauty that there was no question North Oak's design would create seamless connections to the outdoors and push the envelope on sustainability. The Town of Oakville is committed to long-term energy planning and we are excited to be part of the ongoing transformation of this wonderful community."
Geoexchange energy systems have long been used in Nordic countries as alternative energy sources, though in Canada they have primarily been used to improve performance of single-family homes. These systems leverage the Earth's stable underground temperatures to provide heating or cooling year-round in a more energy efficient way, substantially reducing the amount of fossil fuels used.
In addition to reducing carbon emissions, capitalizing on renewable ground source energy protects residents from rising utility costs, Minto Communities said.
Since the system provides year-round heating and cooling, there is no system 'switchover' between seasons, which improves resident comfort. The system is designed so that future towers of the Oakvillage community can also be connected, creating a community energy system aligned with goals set out in the Town of Oakville's Community Energy Plan.