Ontario college's new building devoted to entrepreneurship
by Cindy Macdonald | May 10, 2018 12:17 pm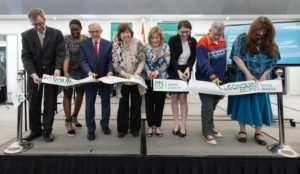 Algonquin College[2] capped its 50th anniversary celebrations with the grand opening of its new building, the DARE District[3], on the Ottawa campus. Diamond Schmitt Architects[4] and Brook McIlroy[5] from Toronto, and Ottawa's Edward J. Cuhaci and Associates Architects[6] designed the facility.
The $44.9-million building will serve as a multidisciplinary space for faculty, researchers, businesses, and most importantly, Algonquin's students. The three-storey facility has large expanses of glass and an open-space library. Dynamic glazing is employed on the east and west façades to control solar radiation, according to Zofia Jurewicz, president of Edward J. Cuhaci and Associates.
The DARE District will include the college's new library and learning centre, an Indigenous commons, maker spaces where students can get their hands on the latest technology, and a cybersecurity centre. It will be home to new training and test facilities for high-demand job sectors, a multimedia production facility, applied research and innovation programs, and an area dedicated to Indigenous entrepreneurship.
"This a place where the dreams of our learners will take flight," said Cheryl Jensen, president of Algonquin College. "So much of learning is about discovery, and our DARE District has created the space for that to happen."
The Algonquin College Students' Association invested $1 million towards Indigenous art and architecture in the new facility.
The DARE District project was supported by $21.9 million through the federal government's Post-Secondary Institutions Strategic Investment Fund[7] and $2.9 million from the Ontario Ministry of Training, Colleges and Universities'[8] Facilities Renewal Program fund.
Endnotes:
[Image]: https://www.constructioncanada.net/wp-content/uploads/2018/05/DARE20District20Ribbon20Cutting20-20community20political20and20Algonquin20College20leaders20join20together20to20officially20open20the20DARE20District.jpg
Algonquin College: http://www.algonquincollege.com/
DARE District: http://www.algonquincollege.com/dare/
Diamond Schmitt Architects: https://dsai.ca/
Brook McIlroy: http://brookmcilroy.com/splash/
Edward J. Cuhaci and Associates Architects: http://www.cuhaci.com/
Post-Secondary Institutions Strategic Investment Fund: https://www.canada.ca/en/innovation-science-economic-development/programs/science-technology-partnerships/investment-fund.html
Ontario Ministry of Training, Colleges and Universities': https://www.ontario.ca/data/capital-grants-colleges-and-universities
Source URL: https://www.constructioncanada.net/ontario-colleges-new-building-devoted-to-entrepreneurship/
---