Ontario college receives zero carbon design certification
June 4, 2018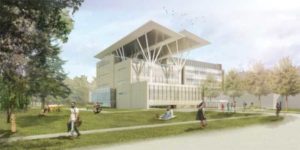 Mohawk College[2] in Hamilton has been awarded Zero Carbon Building – Design certification[3] from the Canada Green Building Council[4] (CaGBC) for the Joyce Centre for Partnership & Innovation[5]. The Joyce Centre is the second building to receive the certification. The first was a multitenant office building[6] in Waterloo, Ont.
"With this project, Mohawk has proven they are on the leading edge of innovation going well beyond the status quo. This project shows these buildings are technically feasible and financially viable, and sets a strong example for students about the low-carbon economy," said Thomas Mueller, CEO of the CaGBC.
In 2017, the Joyce Centre became one of 16 projects from across Canada to be chosen as a pilot project for CaGBC's new Zero Carbon Building Standard[7].
Contributing to the zero carbon certification was Mohawk's curtain wall technology which offers much better insulation value than typical curtain walls. The Centre also uses no natural gas onsite —the all-electric set up allows for the easiest route to low carbon for most buildings.
There will be nearly 500 solar panels mounted to canopies on the roof of the Joyce Centre. Campus-wide, the college is installing nearly 2000 solar panels as part of a clean energy retrofit. Mohawk's solar panel system will produce 550,000 KW of clean energy per year which is enough to power 45 Canadian homes for one year. The Joyce Centre also features 38 geothermal wells that draw energy from more than 183 m (600 ft) below the building.
For more information on the project, read the article, "Interweaving sustainability, learning, and culture at Mohawk College[8]."
New construction projects earn Zero Carbon Building – Design certification by modelling a zero carbon balance, highly efficient envelope and ventilation systems to meet a defined threshold for thermal energy demand intensity, and onsite renewable energy systems capable of providing a minimum of five per cent of building energy consumption.
Project teams are required to evaluate energy use holistically, including impacts on peak electricity, and determine the greenhouse gas (GHG) emissions associated with structural and envelope materials. Both new and existing buildings can obtain the standard.
Endnotes:
[Image]: https://www.constructioncanada.net/wp-content/uploads/2018/06/North-West-Ortho-450x225.jpg
Mohawk College: https://www.mohawkcollege.ca/
Zero Carbon Building – Design certification: https://www.cagbc.org/zerocarbon
Canada Green Building Council: https://www.cagbc.org/zerocarbon
the Joyce Centre for Partnership & Innovation: https://www.cagbc.org/CAGBC/Zero_Carbon/Project_Profiles/Mohawk_Profile.aspx
building: https://www.constructioncanada.net/ontario-building-first-to-receive-zero-carbon-building-design-certification/
Zero Carbon Building Standard: https://www.cagbc.org/cagbcdocs/zerocarbon/CaGBC_Zero_Carbon_Building_Standard_EN.pdf
Interweaving sustainability, learning, and culture at Mohawk College: https://www.constructioncanada.net/interweaving-sustainability-learning-culture-mohawk-college/
Source URL: https://www.constructioncanada.net/ontario-college-receives-zero-carbon-design-certification/
---