Ontario allows some essential construction projects to start
by sadia_badhon | May 6, 2020 7:48 am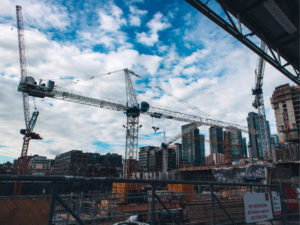 On May 4, the Ontario government allowed certain businesses and workplaces to reopen as long as they comply with strict public health measures and operate safely during the COVID-19 outbreak. Those permitted to start up include seasonal businesses and some essential construction projects.
"We are allowing certain businesses to reopen under strict guidelines because we are confident they can operate safely and adapt to the current environment," said Premier Doug Ford. "While further reductions in the spread are needed before we can begin reopening the province, we have the right framework and the right workplace guidelines in place to do so gradually and safely."
Some of the additional essential construction projects include:
shipping and logistics;
broadband, telecommunications, and digital infrastructure;
any other project that supports the improved delivery of goods and services;
municipal projects;
colleges and universities;
child care centres;
schools; and
site preparation, excavation, and servicing for institutional, commercial, industrial, and residential development.
On April 27, the government released A Framework for Reopening our Province[2], which outlines the criteria Ontario's Chief Medical Officer of Health and health experts are using to advise the government on the loosening of emergency measures, as well as guiding principles for the safe, gradual reopening of businesses, services, and public spaces.
The Residential Construction Council of Ontario[3] (RESCON) backs the Ontario government's plan in expanding the list of permitted construction activities.
Allowing the reopening of site preparation, excavation, and servicing for residential developments will ensure more fulsome construction activity can resume across the province, which is necessary to provide housing for thousands of Ontarians, RESCON said in a press release.
"Given the seasonal nature of construction, as well as the importance of the housing industry to the economic strength and recovery of the province, [this] announcement is an extremely positive one," said Richard Lyall, RESCON president.
Lyall said the decision to resume site-grading and earthwork is sensible, as operators are in their respective machines and thus practicing physical distancing. Site-grading is an important component to every construction site as infrastructure and servicing work lays the foundation for residential units and homes.
The Ontario Construction Secretariat[4] (OCS) has conducted The Coronavirus Contractors Survey: Impacts and Actions[5] to provide insight on how the coronavirus pandemic has affected the industry.
OCS conducted the survey between April 22 to 29 of 200 industrial, commercial, and institutional (ICI) contractors from across the province.
The survey found 98 per cent of contractors have been impacted by the coronavirus to some extent, with more than half (52 per cent) reporting most of all their work has stopped. In respect to the extent of their work that has been impacted, contractors report, on average, 64 per cent of existing work has stopped completely and 65 per cent of their upcoming projects have been delayed. Additionally, 63 per cent of contractors are affected by supply chain issues at a medium to high level.
The leading concern by contractors surveyed is ensuring the health and safety of their workforce, closely followed by a global recession and productivity. Other prominent concerns include disruptions of the supply chain, keeping firms in business, and the ability to meet contractual deadlines. Most contractors (63 per cent) agreed with the province's decision on April 3 to shut down parts of construction, and 22 per cent were opposed. On average, the provincial shutdown affected 63 per cent their construction activity.
The construction industry has taken a significant blow financially as a result of the pandemic. Under the April restrictions and current government support, 16 per cent of construction firms expect they would go out of business within three months and 28 per cent would go out of business within three to six months. On average, contractors report their revenue is down 42 per cent compared to the same point last year.
The survey has also found 74 per cent of contractors have laid off construction site workers, while 42 per cent have laid off office staff.
Endnotes:
[Image]: https://www.constructioncanada.net/wp-content/uploads/2020/05/Opener.jpg
A Framework for Reopening our Province: https://www.ontario.ca/page/reopening-ontario-after-covid-19?_ga=2.240822784.2023726693.1588267697-602120978.1582919363
Residential Construction Council of Ontario: https://rescon.com/
Ontario Construction Secretariat: https://iciconstruction.com/
The Coronavirus Contractors Survey: Impacts and Actions: https://iciconstruction.com/2020/05/04/2020_coronavirus_impactsactions/
Source URL: https://www.constructioncanada.net/ontario-allows-some-essential-construction-projects-to-start/
---