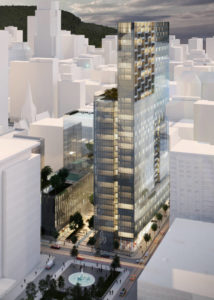 Earlier this summer, Humaniti, a large-scale development in Montréal, registered for WELL Building Standard (WELL) certification—a performance-based system for measuring, certifying, and monitoring features of buildings and communities impacting the health and wellness of people who live, work, and learn in them. Billing itself as the very first 'smart vertical community,' Humaniti will comprise a hotel with nearly 200 rooms, more than 300 rental housing units, and 150 condominiums, along with 5574 m2 (60,000 sf) of offices and 1393 m2 (15,000 sf) of commercial space.
WELL certification is the first health and wellness standard to harmonize and coexist with Leadership in Energy and Environmental Design (LEED) certification. It aims to put humans at the centre of real estate and built-environment design decisions. WELL is grounded in evidence-based research demonstrating the connection between buildings where people spend approximately 90 per cent of their time and those buildings' health and wellness impacts on its occupants.
Mathieu Duguay, president of COGIR Real Estate (partnering on the project with Fonds immobilier de solidarité FTQ), highlighted a Conference Board of Canada study which estimated absenteeism costs for the Canadian economy at $16.6 billion for 2012 alone. In a similar vein, the Institut universitaire en santé mentale de Montréal has cited research results from Chrysalis Performance showing workplace stress accounts for 19 per cent of absenteeism costs, 40 per cent of staff turnover costs, 55 per cent of employee assistance program costs, 60 per cent of work accidents, 10 per cent of prescription drug insurance plan costs, and 100 per cent of stress-related lawsuits.
The cited advantages of a WELL-certified building include:
application of strategies and methods aimed at maximum reduction of internal sources of air pollution;
water supply of outstanding quality validated by independent laboratory tests;
promotion of healthy eating, with nutritional information, and elimination of junk food;
lighting systems preventing the effects of glare and visual discomfort;
spaces devoted to physical activity (i.e. exercise equipment); and
design features and artworks for creating a relaxing environment.
WELL is also scalable, subject to periodic critical assessment and rating by independent expert laboratories with results guaranteeing standards are maintained. The standard is administered by Green Business Certification (GBCI) and the International WELL Building Institute (IWBI)—a public benefit corporation leading the movement to promote health and wellness in buildings and communities globally.
"Our homes are the most important spaces in our lives and making them as healthy for our families as possible is something all of us do naturally. The WELL Multifamily Residential Certification gives residents a solid foundation from which they can build out their interior spaces to protect and advance the health and well-being of people who matter most," explained IWBI president, Kamyar Vaghar. "We're excited to see Humaniti make this commitment to bring this important concept to life in Montréal."