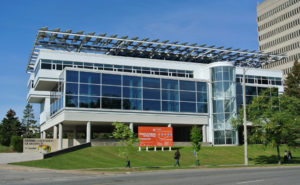 The Ontario Association of Architects (OAA) renovated its Toronto headquarters with sustainable design elements. The major work of the project is now completed with the installation of additional photovoltaic (PV) panels.
After being in use for more than 25 years, the building needed extensive maintenance. Further, its energy use was significantly above average for a new low-rise office of its kind due to its outdated mechanical system, which reheated cooled air—even in the summer. After OAA council reviewed the options of revitalizing the current building or looking for a new one, it decided the costs and environmental impacts of moving would outweigh any advantages.
OAA council approved the carbon neutral operating approach and directed the consultant team, lead by architect David Fujiwara.
A number of products and systems including high-efficiency occupancy lighting, displacement ventilation, geothermal heating, enhanced insulation, flexible work spaces, and dynamic glass have been utilized to optimize the building's performance and improve the interior environment.
The new PVs join existing solar panels and other active and passive technologies intended to offset the building's energy use with energy creation, ultimately offering 'free' electricity and hot water.
"Once we decided to retrofit the OAA HQ, both operating and embedded energy guided our decisions to ensure the building's life-cycle performance would be environmentally sustainable," said Kathleen Kurtin, OAA president. "The OAA building committee worked closely with the other members of the project team to ensure our objectives were met."
In the next phase, the building operations will continue to be monitored and fine-tuned to ensure the OAA HQ remains on target for maintaining zero net carbon by 2030.