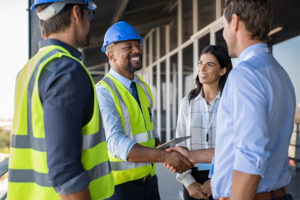 The Afro-Canadian Contractors Association (ACCA) has officially launched marking the start of Black History Month and the beginning of a new, nationwide day in the construction industry.
ACCA was founded in September as a nonprofit with the primary goal of increasing the presence of Black-owned contracting companies in the Canadian construction industry. With a focus on the principles of Talent-Respect-Unified-Skilled-Trades (TRUST), ACCA is working to increase the presence of Black-owned construction companies and tradespeople, by creating a steady pool of experienced and trained contractors in the residential and ICI sectors.
According to a press release from ACCA, racial discrimination and a lack of racial equality permeates the industry and as a result, even prior to Black workers reaching the construction site, they face rejection or major hurdles to gain access to Canada's $453-billion construction industry.
"Black contractors have a longstanding history of contributing to projects across Canada," said Stephen Callender, ACCA president, "yet, full integration into the industry has only been achieved by a small subset of talented Black-owned construction companies. In keeping with our mandate to multiply the number of Black-led construction projects, we must also ensure Black workers are treated fairly and paid equally."
The need for this organization is highlighted by a number of disturbing instances last summer of nooses at sites in the Greater Toronto Area (GTA) in the midst of protests sparked by the murder of George Floyd. Despite public statements of positive intent, the industry has a long way to go in terms of equality and diversity, the press release said.
"The formation of ACCA is much needed at a time when the Canadian construction industry has no choice but to admit there is a serious problem when it comes to systemic anti-Black racism in addition to the brazen acts of hate that have been targeting Black people in the industry for far longer than what has recently come to light in the news in the past year," said Richard Whyte, chief estimator-Toronto civil division for EllisDon Corporation. "The formation of a centralized conduit through which the industry can form business relationships with Black-owned construction companies as well as increase representation amongst the trades is an important first step to make meaningful change to this problem."
Although several organizations and government infrastructure projects are now including social procurement programs, construction companies claim they are unable to fulfil the mandate due to an inability to find accredited or Black union tradespeople to hire. However, there are complex and economic barriers to being a part of a union that leaves Black workers out of lucrative job opportunities.
In facilitating a united voice for the Black construction industry, ACCA will address the racism, unfair hiring process, and inaccessibility to job opportunities by offering a range of professional workshops focused on educating Black contractors and lobbying for change within the unions and industry stakeholders.