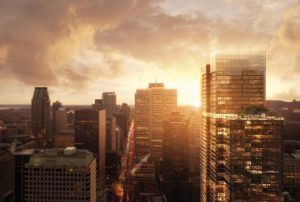 Designs have been revealed for a high-rise  in downtown Montréal that could be the city's tallest residential building.
The 61-storey, 220-m (722-ft) tall building at 1 Square Phillips will be constructed in three phases. The 122,000-m2 (1,313,000-sf) tower will comprise more than 500 residential units. A hotel will be added at a later date.
The building's architectural geometry will offer unique corner units. The location on Phillips Square means this residential tower will be the same height as Place Ville Marie, a large office and shopping complex. The views of downtown and the surrounding area from the various units are expected to be spectacular.
1 Square Phillips would also feature a garden by landscape architect Claude Cormier of Claude Cormier + Associés.
"We designed 1 Square Phillips for residents who are seeking a lively, hip experience of downtown Montréal and its entertainment district, while enjoying an intimate, private setting," said Anik Shooner and Jean-Pierre LeTourneux, lead architects and partners, Menkès Shooner Dagenais LeTourneux Architectes. "Upon entering the interior garden, a true oasis in the heart of the project, you will be filled with a feeling of calm."
Construction is to begin in 2020, with occupation of the first phase in 2024.