New Kid on the (Chopping) Block: Designing with porcelain slabs
July 10, 2017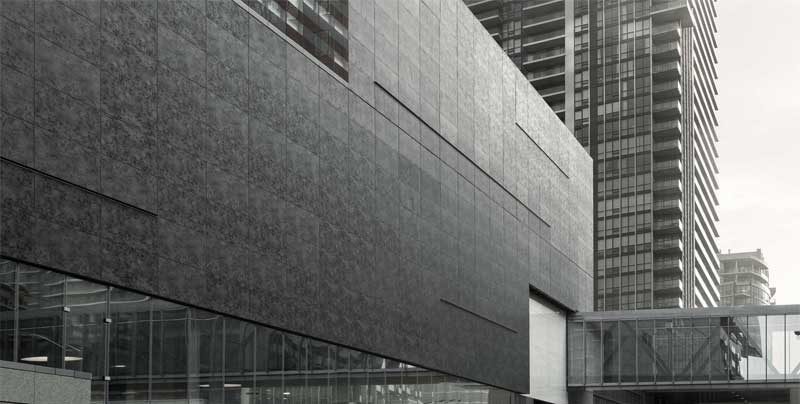 By Bill Wright
The introduction of super-large-format porcelain slabs into the Canadian market could redefine the countertop concept for high-end residential and hospitality projects including restaurants, bars, hotels, and high-rise condos. These slabs are also finding other interior design uses, including as fireplace surrounds.
For many years, granite and quartz have been the materials of choice for these applications for both functional and esthetic reasons. Now, porcelain components available in previously unavailable sizes—1620 x 3240 x 12 mm (63.7 x 127.5 x 0.5 in.)—are bringing new attributes to the table.
The designer-driven demand for slab options with the inherent characteristics of porcelain was a challenge. However, as manufacturing technology advanced, tiles grew from 300 x 600 mm (12 x 24 in.) to 600 x 1200 mm (24 x 48 in.). The engineering of these larger tiles paved the way for new opportunities in the slab market.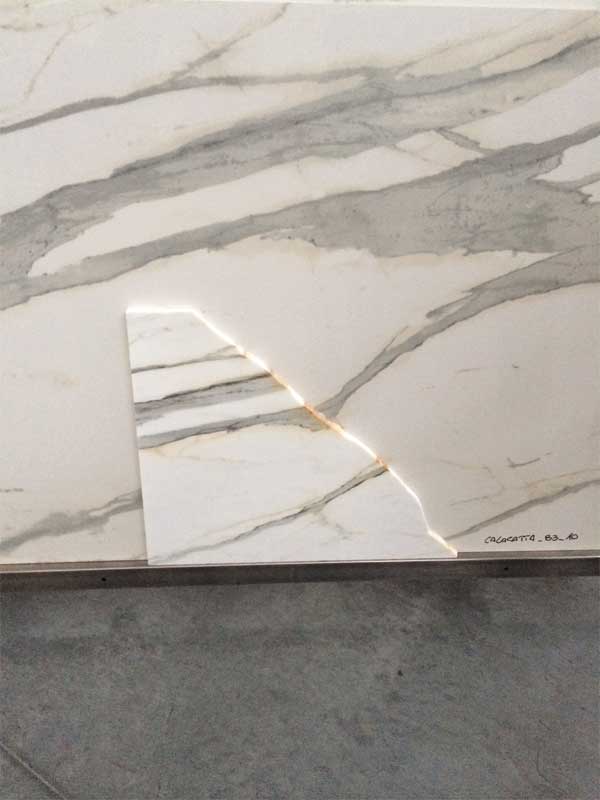 First developed in Italy and manufactured using a high-definition digital process, these porcelain slabs have excellent picture detail and crispness—a side-by-side comparison of these manufactured slabs with their natural counterparts will not reveal telling differences. Further, beyond esthetics, these types of products have many desirable technical qualities.
When comparing options that resemble white marble, a porcelain slab in the aforementioned dimensions is priced at about $40/sf retail. Quartz slabs at 1575 x 3200 x 20-mm (63 x 128 x 0.8-in.) come in at a similar price, whereas marble, depending on slab sizes and quality, can range from $80 to $120/sf in a 20-mm thickness. (Fabrication prices vary nationally from market to market.)
Strong as granite
Tested to Moh's Scale of Mineral Hardness, with '1' being the softest and '10' being the hardest, 12-mm (½-in.) porcelain is a '9.' Engineered quartz is typically rated '7' on this scale, while granite comes in at an '8.'
The hardness rating of porcelain is the result of both the raw materials and manufacturing method. Porcelain tiles are a mixture of kaolin clay, quartz, and feldspar, which is blended, pressed, and then fired at 1200 to 1400 C (2192 to 2552 F). By comparison, the temperature of lava flowing from a volcano is about 700 to 1200 C (1292 to 2192 F). This combination of high heat and clay makes for a strong and durable finished material. Engineered quartz is pressed into slabs at a low heat, using a mixture of crushed quartz bonded together using resins, polymers,
and pigments.
Granite is a natural stone. It is a very hard igneous rock containing quartz, mica, and feldspar as its main mineral makeup. The high-heat firing process used to manufacture porcelain is similar to how granite is naturally created. This process is what gives porcelain its many superior qualities when compared to engineered quartz, and even the granite after which it is modelled.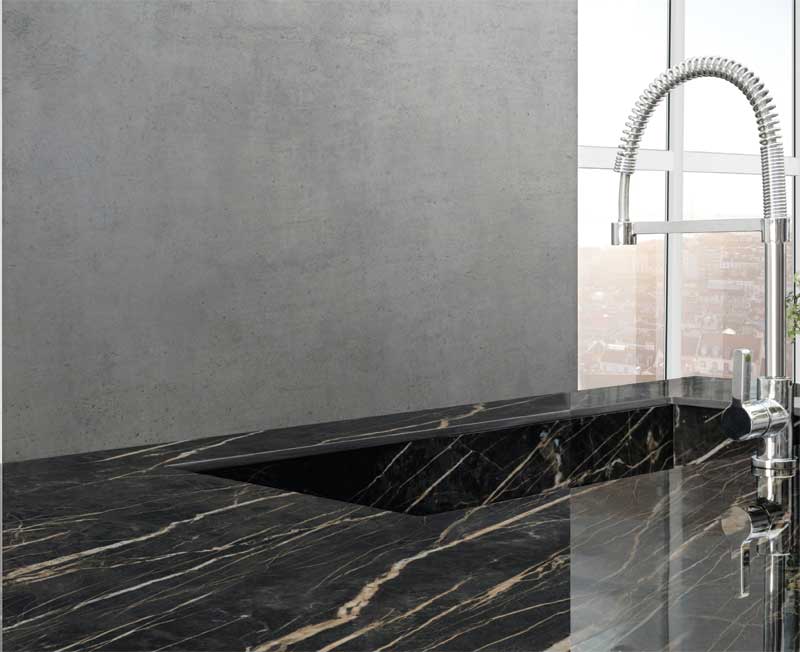 Resisting heat, shock, scratches, and abrasion
Sudden temperature changes can cause problems with some natural stone products in countertop applications. For example, placing a hot cooking pot directly onto a granite slab may cause pitting in the granite. Similarly, several manufacturer websites for the most popular quartz brands often state using the material as a fireplace surround, or putting hot pots directly onto it, can cause cracking. Examples of external forces or interactions that can make engineered quartz crack include:
impacts;
uneven cabinets or flooring;
structural settling or movements;
thermal shock from contact with hot items; and
improper installation.
Therefore, cracks are not covered by the warranty. A sample manufacturer clarification states, "Caution: Do not use crock pots, skillets or other hot items directly on [the surface] … Always place them on a trivet or cutting board to protect … from thermal shock."
Porcelain, on the other hand, can be safely used for a fireplace surround, and hot pots can be placed directly from the stove onto a countertop without causing damage. Further, fruits and vegetables can be cut directly on a porcelain countertop without marring the surface. This practice is not advised with granite, as the surface will take on a dull look over time. With manufactured quartz, the surface will similarly suffer damage and the finish will be degraded.
Stains and ultraviolet
Porcelain tile and, for a much longer time, granite have been used as exterior building cladding materials in projects
around the world. Architects and building owners have long recognized the inherent timeless qualities both materials have in common. These qualities include resistance against ultraviolet (UV) light, permanent colour-fastness, a very low absorption rate, high heat and frost resistance, and durability. Quartz, on the other hand, is not recommended for exterior applications or direct sunlight, as the colours can fade with prolonged UV exposure.
Resistance to UV has become a more-important characteristic in recent times—restaurants and hotels are exploring new opportunities with patios while, in the residential market, backyards are increasingly becoming extensions of living and entertaining spaces.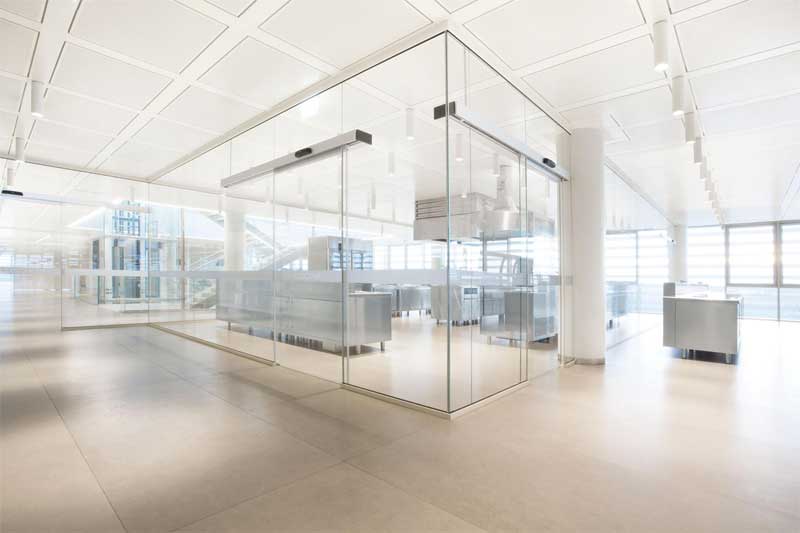 Spills are inevitable where food is being served or prepared, so stain resistance is certainly an important feature for countertops. Granite can perform well, but it may need to be sealed to improve stain resistance. Porcelain slabs are so dense they are stain-resistant without the need to take any additional measures.
Quartz is a non-porous material and highly resistant to stains, scratches, and heat, but it is not completely invulnerable. This might be surprising, as the term 'non-porous' would seem to indicate it cannot be stained if nothing is absorbed. With quartz, stains usually occur due to chemical reaction with the resin—the chemical, food, or drink discolours the resin, but nothing is absorbed. However, a red wine stain or coffee mug's ring mark stands out on bright white background. Using penetrating sealers is not recommended for quartz.
Generally, most manufactured quartz products are not recommended in areas where they will be exposed to abnormal use or abuse. This includes excessive heat, scorching, or exposure to weather conditions, along with exposure to UV light, physical or chemical abuse, acid etching, staining, or damage from chipping, cracking, or impact damage.
For these reasons, quartz products are also not recommended for commercial applications like retail stores, restaurants, offices, hotels, or apartment complexes—all projects in which porcelain can be successfully employed.
Edge details and fabrication
Porcelain, quartz, and granite slabs can all be fabricated using automatic machinery, such as computer numerical control (CNC) equipment, water jets, or bridge saws. Fabricators must take care to use the proper cutting tools and correct machine speed for their chosen method and material. Porcelain, quartz, and granite all require different tools and machine speeds for production. The fabrication times also vary for each material. For example, it may take slightly longer to fabricate porcelain slabs. As the material is so hard and dense, the cutting machinery may need to run at a slower speed. Engineered quartz and granite are softer materials and can be cut more easily, so the cutting process may be faster.
Several local fabricators have told this author the most common edge detail in porcelain, granite, and quartz is the same—the square edge detail. This edge is fabricated using two 45-degree mitered edges.
As always, the design/construction professional should refer to the product manufacturer's fabrication guidelines for cutting processes and edge details. These guidelines will often outline other important information, such as the maximum unsupported spans, the preferred cutting plan layout, and the proper sink and tap-hole placement for the product.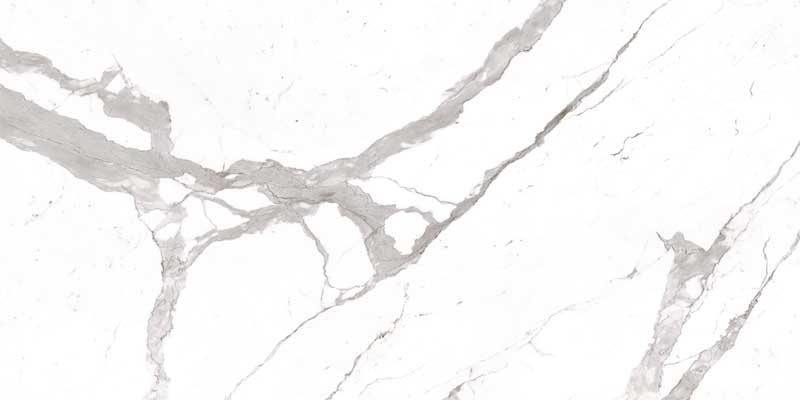 Colours and appearance
The technology used to manufacture porcelain slabs produces colours and details that are virtually indistinguishable from 'natural' materials. The 12-mm porcelain slabs come in a variety of hues and patterns. Highly sought-after marble appearances are available, as well as many popular limestone looks. Wood designs, concrete looks, and solid colours round out the options, along with various hue choices for 'book-matched' slabs—this type of 'mirror imaging' has become a very popular feature in natural stone materials.
Granites can have a variety of appearances, all of which come naturally, ranging from a more fine- to large-grain crystalline appearance or speckled looks. Natural processes have made granite available in a very wide range of colours; however, it may often appear as 'cooler,' rather than 'warmer.'
Engineered quartz has a crystalline appearance as a function of its manufacturing. Traditionally, these quartz products are available in many granite looks and fine crystal solid colours. The one issue is colours can lack the sharp, 'crisp' look of natural marble; they can appear muted or washed-out to the trained eye.
Conclusion
Quartz is a good re-creation of many crystalline stones like granite. Further, quartz products are generally less expensive—their appeal has often been in the ability to purchase something with a similar look to granite without the expense. However, the advent of large porcelain slabs could signal a change with respect to countertop applications because porcelain can reproduce a more accurate likeness and bring additional benefits. One of these is the material's light weight in comparison to granite. This can be an important factor beyond countertops, whether creating engineered exterior wall systems or specialized interior renovation settings like cruise ship cabins.
As new technology emerges, new equipment for fabrication evolves with it. As with any innovation and transition, some fabricators are quick to embrace the new, stronger porcelain sheets. Others may prefer to stay with familiar and comfortable materials and techniques. Ultimately, consulting with product suppliers and co-ordinating with an experienced fabricator is the best route to a successful selection and installation.
With regard to industry standards and specifications, the Terrazzo, Tile, and Marble Association of Canada (TTMAC) is aware of the demand for these products. The group is currently creating a new manual for fabricators and designers that will include such large-format porcelain slabs and expanded information on engineered quartz slabs. The Specification Guide 093000 Tile and Stone Installation Manual is being revised to further address large porcelain slabs for wall and floor installations. (Until the new guidelines are published, specifiers looking for additional information can contact the association through www.ttmac.com [6]to be referred to an appropriate expert.)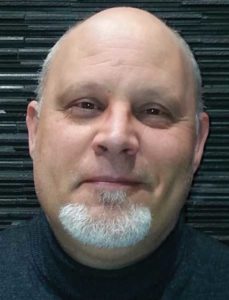 [7]Bill Wright is a technical specialist with Stone Tile International, and is currently heading its training and education department. He brings three decades of experience in all aspects of the tile and stone industry, from installation and manufacturing to architectural/contractor sales and management. For the past decade, Wright has served as a director of the Terrazzo, Tile, and Marble Association of Canada (TTMAC), where he was a regular contributor to the last three editions of the TTMAC Installation Manual. He can be reached at bwright@stone-tile.com[8].
Endnotes:
[Image]: https://www.constructioncanada.net/wp-content/uploads/2017/07/1-York-exterior-porcelain-e1499717100137.jpg
[Image]: https://www.constructioncanada.net/wp-content/uploads/2017/07/CALACATTA-stone-and-porcelain.jpg
[Image]: https://www.constructioncanada.net/wp-content/uploads/2017/07/CAVA-porcelain-counter-and-edge.jpg
[Image]: https://www.constructioncanada.net/wp-content/uploads/2017/07/Porcelain-slab-floor.jpg
[Image]: https://www.constructioncanada.net/wp-content/uploads/2017/07/CAVA_STATUARIO_VENATO_porcelain-close-up.jpg
www.ttmac.com : http://www.ttmac.com
[Image]: https://www.constructioncanada.net/wp-content/uploads/2017/07/bill-author-e1499718115449.jpg
bwright@stone-tile.com: mailto:bwright@stone-tile.com
Source URL: https://www.constructioncanada.net/new-kid-on-the-chopping-block-designing-with-porcelain-slabs/
---