New international standard for the visually impaired
July 18, 2012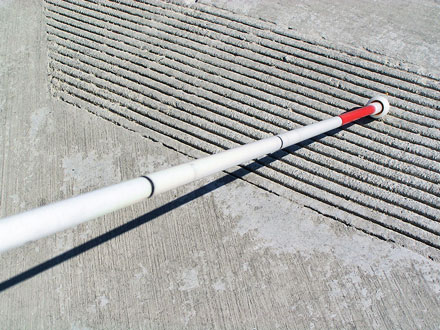 International Organization for Standardization (ISO) has established a new standard for specifying tactile walking surface indicators (TWSIs).
For those who are visually impaired or blind, TWSIs provide an alternative to visible signage on walking surfaces in public spaces and facilities. By using walking canes or shoe soles, visually impaired individuals can identify raised tactile surfaces, allowing them to travel independently and safely.
The standard, ISO 23599:2012, Assistive Products for Blind and Vision-impaired Persons–Tactile Walking Surface Indicators, aims to provide a common international understanding of the correct way to use and install TWSIs.
There are two types of TWSIs—attention patterns and guiding patterns. The former is installed in pedestrian crossing areas, such as curbs, subway platforms, stairs, and elevators. The latter indicates walking routes from one destination to another and can be used in conjunction with attention patterns or separately. Both are included in the newly developed standard in terms of their usage and installation recommendations.
Hidekatsu Aoki, who collaborated on the standard, explains Canada has approved it. Although there are challenges to internationally implement it, the aim is not to replace any national requirements of TWSIs, but to make them more consistent.
"The installation of TWSIs is relatively expensive, and development of a standard that requires retrofit of TWSIs can be an impractical goal," he told Construction Canada Online. "If visually impaired travellers have become used to particular types of installations where they live, changing them would lead to confusion and loss of confidence in the system. Nonetheless, the development of a standard based on the consolidated findings of science, technology, and experience is desirable to encourage consistency in new installations of TWSIs, and to increase quality of the products."
Source URL: https://www.constructioncanada.net/new-international-standard-for-the-visually-impaired/
---