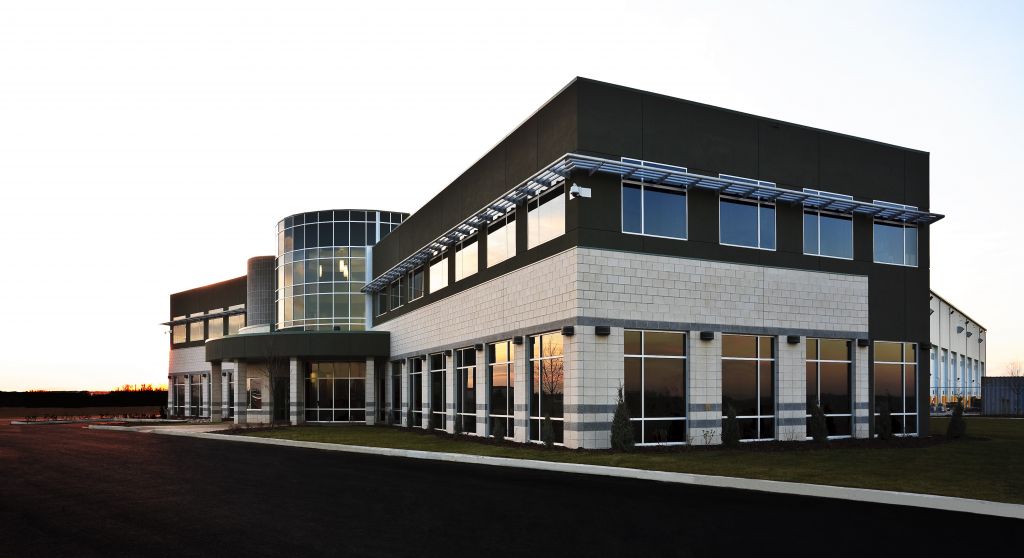 An oil and gas contractor in Alberta outgrew its facility and used metal building assemblies to design a new efficient warehouse to house its heavy-duty drilling equipment.
Precision Completion and Production Services—known as Precision Drilling—of Red Deer, Alta., simply ran out of room. The contractor was involved in several months of preliminary discussions to develop a building plan.
A design-build plan was created for a structure to accommodate more than 65 office and shop employees, as well as space suitable for housing the firm's massive drilling equipment and ancillary machinery. Room for hundreds of pieces of equipment, including multiple 10-tonne cranes and other heavy-duty equipment, was required. Precision Drilling acquired 32 ha (80 acres), and built on an additional 12 ha (30 acres).
A 2136-m2 (23,000-sf) facility with a combination of pre-engineered and conventional steel structure was created—a place where employees and machines share space. Matt O'Neill, manager of equipment support services for Precision Drilling, stepped in as project manager during the building's construction.
While O'Neill became the project's point man, Precision Drilling had several levels of management that remained highly involved, with the builders keeping everyone in the loop. This was critical because of the various functions the space needed to perform.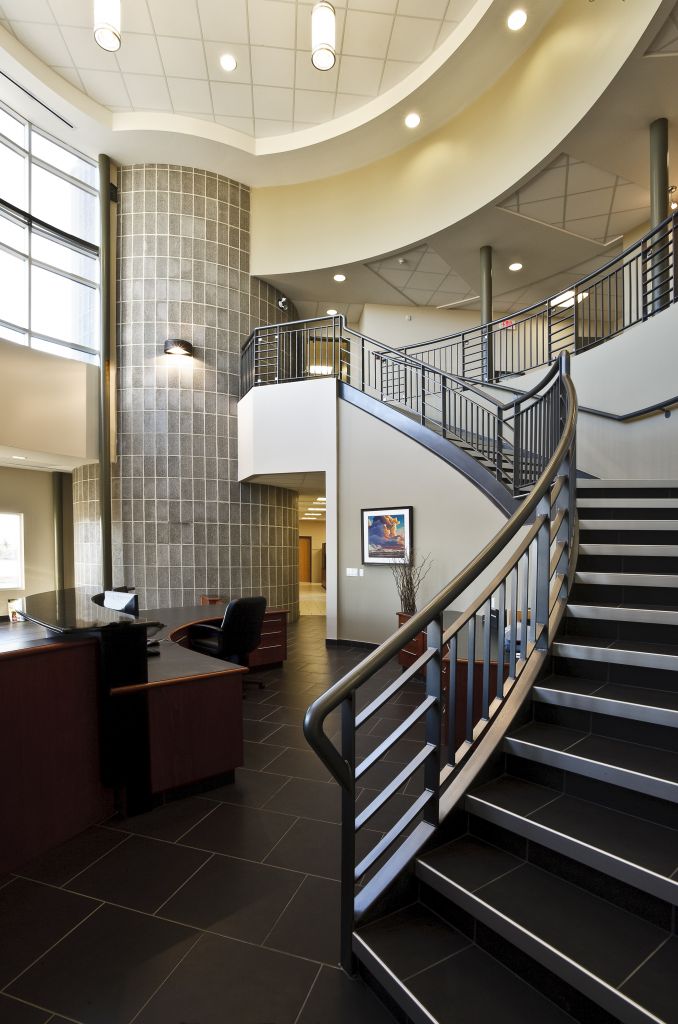 The building's front section houses the company's central file, which keeps more than 3000 maintenance and personnel records as well as everything needed for more than 300 active pieces of equipment. The back section contains eight service bays and one wash bay, and is divided into two buildings.
The perimeter of the building is primarily used for office space and is accented by floor-to-ceiling glass on the front façade. At the building's core are work rooms, meeting rooms, and storage facilities. A spacious executive boardroom seats at least 30 people and is fully wired, enabling staff to connect wirelessly and reach out to satellite branch offices throughout Alberta, Saskatchewan, and parts of British Columbia.
The facility features a standing-seam metal roof system, specified for its low maintenance, weathertightness, and long life. The system includes movable clips to accommodate roof movement during changing temperatures. Additionally, factory-punched panels and structural members maintain correct alignment and accurate installation. The roof accommodates additional insulation thicknesses for increased energy efficiency.
The wall system panels are also factory-punched for proper fit. They have a fluoropolymer coating and no additional framing was required to support the assembly.
"Even though we have a huge amount of people and horsepower here, we're able to make the business, the paperwork—all the logistics—flow smoothly through the building," said O'Neill. "We have had no issues with the flow of equipment either, even with all the movement of big equipment in and out of the building for fabrication, maintenance, and repair.
The construction process flowed smoothly. Now, the new facility has quickly become an efficient place for heavy equipment.

Kevin Hutchings is the training manager for Butler Manufacturing and is responsible for product, builder management and sales training. He joined Butler as an order technician for the buildings division and in the retrofit roof group, where he gained substantial experience in metal roof design and detailing. He has also served as project services manager for the roof division of Butler, managing a number of large and complex retrofit roof projects. He has been training manager at Butler for more than 15 years. Hutchings can be contacted at  jkhutchings@butlermfg.com.

Control the content you see on ConstructionCanada.net!
Learn More.