New bridge to lead traffic through Fraser Canyon
by brittney_cutler_2 | February 8, 2022 4:35 pm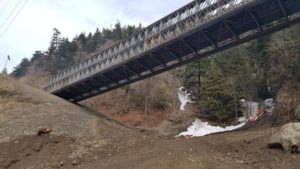 Bridge builder Acrow has installed a modular steel bridge to provide temporary traffic access through British Columbia's Fraser Canyon. It replaces a section of Highway 1 damaged during heavy rainfall last November.
The single-lane bridge is 79.25 m (260 ft) long and 4.2 m (13.78 ft) wide, with a Test Level 2 (TL-2) guardrail system. Additional efforts were required to prepare the installation site ahead of the bridge's launch, including stabilization work and road and bank reconstruction.
Coquitlam Ridge Constructors Ltd. and the British Columbia Ministry of Transportation and Infrastructure (BC MoTI) sought out the bridge to restore traffic flow near Jackass Mountain, after a large three-lane section of the highway was destroyed by a landslide.
"We are honoured to have been selected to take part in this project to restore a vital transportation link in the aftermath of the unprecedented climate events in November," said Ken Scott, president of Acrow Canada. "Critical to its success has been the tireless work of Chuck Hunter, Acrow Canada's western manager, who has drawn on four decades of technical expertise to ensure a safe, successful installation, working in close collaboration with the province and contractor."
The new bridge will remain in place until a permanent solution is identified.
Endnotes:
[Image]: https://www.constructioncanada.net/wp-content/uploads/2022/02/BC_Acrow-1.jpg
Source URL: https://www.constructioncanada.net/new-bridge-to-lead-traffic-through-fraser-canyon/
---