Nearly 80 new skyscrapers set to rise in Toronto
May 9, 2019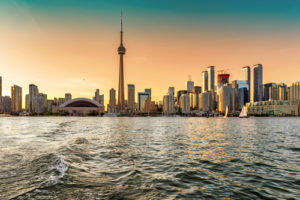 Toronto's already crowded skyline could see even more new skyscrapers being constructed in the next few years, which could more than double the number of tall buildings in the city, according to a report by Point2 Homes, as explained in the National Post.
With 60 skyscrapers, Toronto is currently listed among 20 cities with the highest concentration of buildings 150 m (492 ft) or taller, according to the CTBUH global database[2] of tall vertical structures. With the 31 buildings that have a set time-frame for completion, Toronto can move up the list considerably. Even then, Canada's most populous city's skyscraper portfolio will be well below that of Hong Kong, which ranks first worldwide with 354 such buildings and more on the way.
Among the new towers are numerous 'supertalls,' a designation for buildings 300 m (984 ft) tall or more. The new structures would dwarf the 290-m (951-ft) First Canadian Place, currently the tallest building in the country.
For more on this story go to the National Post[3].
Endnotes:
[Image]: https://www.constructioncanada.net/wp-content/uploads/2019/05/Opener-3.jpg
CTBUH global database: http://www.skyscrapercenter.com/compare-data
National Post: https://nationalpost.com/real-estate/property-post/vertical-city-80-new-skyscrapers-planned-in-toronto-as-demand-climbs/wcm/a6de1b02-20f6-4e6c-9c25-22875a260373
Source URL: https://www.constructioncanada.net/nearly-80-new-skyscrapers-set-to-rise-in-toronto/
---