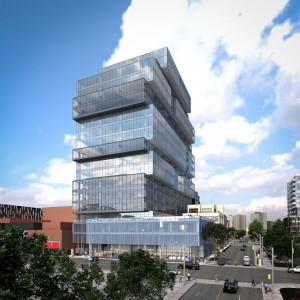 Canada's national newspaper, The Globe and Mail, is getting a new 46,451-m2 (500,000-sf) home in downtown Toronto.
The Globe and Mail Centre will be a part of the city's east-end St. Lawrence neighbourhood and office district. Designed by Diamond Schmitt Architects, the 17-storey tower will feature a high-performance building envelope, advanced glazing system, and 3-m (10-f t) high windows.
The top level of the building will feature 4.5-m (15-ft) ceilings, floor-to-ceiling glazing, and a multi-purpose room with seating capacity for 300 and access to the rooftop terrace. The newspaper's office will occupy the top five floors, while other businesses will lease the remaining ones. The 650 m2 (7000 sf) of food and retail space will be on the ground level.
Occupying a city block defined by King Street East, Front Street East, Berkeley Street, and Princess Street, the tower is the final part of a two-block redevelopment project.
"For The Globe and Mail, which began publishing in 1844 as The Globe, and whose offices once were on King Street, this move is a return to its roots, but into a building designed for 21st-century business needs," said Diamond Schmitt Architects' Donald Schmitt.
The project is being designed to Leadership in Energy and Environmental Design (LEED) Gold standards and the ground-breaking will take place later this fall. Completion is scheduled for 2016.