Nano-infused cements: Part of a movement toward less
September 14, 2020
By Chris Bennett, CSI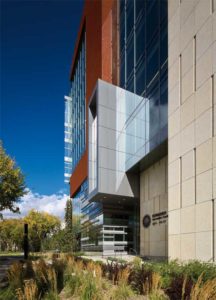 Concrete emits carbon dioxide (CO2) during production, installation, and maintenance. Installing with modern internal curing technologies will reduce concrete's overall CO2 emissions by making it stronger and reducing construction timelines.
Durable concrete requires proper curing (hydrolysis), a process that allows its component materials (water, sand, rock, and cement) to create calcium-silicate-hydrate (C-S-H). Wet curing[2], which involves curing blankets and labour to keep the sheets wet, has traditionally been a good way to achieve this. However, wet curing is a time-sensitive process, requiring applications often foiled by weather, labour, and other factors that increase the time and expense of construction.
In an attempt to build faster, most project teams choose (unknowingly) to speed up the process by curing just enough, resulting in concrete that has dried out too fast and does not achieve maximum strength. Long-term durability has been lost and the concrete is now dependent on petroleum-based patch, repair, and coating products to keep it functional for the rest of its life. The cost of mitigating poor concrete, both economically and environmentally (through additional CO2 emissions over decades), can be enormous.
Much of the effort to reduce concrete's carbon footprint is focused on CO2 at the creation of its cement component rather than its entire life cycle. While cement production[3] is responsible for about seven per cent of manmade carbon dioxide emissions, construction and maintenance of buildings account for more than 35 per cent of global final energy use, and nearly 40 per cent of energy-related CO2 emissions[4]. A meaningful approach to curbing CO2 emissions cannot focus solely on cement creation, but must also improve the process of creating concrete as well as its quality. By focusing only on cement production to lower CO2, building professionals are missing other important opportunities to reduce emissions through a more holistic approach.
Maintaining moisture
One solution is maintaining concrete's placement water by using modern internal curing (IC) technologies. Being able to maintain moisture allows for fuller hydration and reduces volume change, thereby creating more durable, less permeable concrete. New methods for maintaining moisture also allow project teams to pour and place concrete at accelerated time frames when compared to traditional placement methods of sealer sprays and 'moisture membranes'—call it the 'age of internal curing with nano-infused cement (NIC) admixtures.'
Curing concrete from the inside, out
Post-Roman IC was originally the domain of pre-wetted lightweight aggregates of expanded shale, clay, or slate (ESCS), which could release water during hydration to replace moisture loss. Early IC methods were first used by the U.S. government around 1910 for building concrete ships[5] when steel was scarce. Since those early days, different forms of IC have been utilized around the world in commercial construction. According to the ESCS Institute, IC "helps concrete realize its maximum potential in a simple, economical, and sustainable way. IC improves hydration, reduces chloride ingress, and improves durability, all of which extend the concrete's service life[6]."
According to a study by the U.S. Department of Transportation, internal curing[7] can also reduce volume change (shrinkage) as lightweight aggregate fills pores that would otherwise be left empty and at risk for shrinkage.
Versions of IC have been available for decades. These not only include use of clay and shale, but also water-retaining cellulose fibres. Fly ash[8], although primarily introduced as a way to replace cement, also has water-retention properties. However, colloidal silica technologies are creating the most consequential material changes in concrete.
Colloidal silica
According to science writer and technologist Michael Eisenstein, "Every child playing on a beach knows that when they mix sand and water in a bucket, sooner or later, a layer of wet sediment will settle at the bottom of the bucket. What they may not know is that, in 1861, British chemist Thomas Graham discovered that a little chemical coaxing[9] could cause the same wet sediment—solid silicon dioxide particles—to remain suspended, creating a liquid mixture with surprising and distinctive properties."
Colloidal silica is formed from nanometer-sized silica particles that are evenly distributed and suspended in a liquid base. This liquid, denser than water, and having been stabilized electrostatically by Brownian motion[10] (i.e. arbitrary movement of particles in fluid suspension resulting from their impact with the fast-moving molecules within the fluid [or gas]), allows the particles to maintain their unique state of suspension and react deep within the smallest parts of concrete.
To articulate how small a nano[11] is, let us look at a couple of examples. A strand of human DNA is 2.5 nanometers in diameter, and there are more than 25 million nanometers in a single inch.
In the early 2000s, the U.S. Army Corps of Engineers used colloidal silica in a construction project to create a rock-matching grout. While colloidal silica with particles on the nanometer scale had been patented in 1969, this was one of the first large-scale cement utilizations of the substance (read B. Green's "Development of a High-Density Cementitious Rock-Matching Grout using Nano-Particles"). Since then, colloidal silica has become an essential component of many product applications, especially as a component of concrete and coating technologies like hydro-cements, nano-silica, and NICs.
OTHER RESOURCES
www.scribd.com/doc/289729357/Chemistry-of-Silica-Ralph-Iler[12].
www.youtube.com/watch?v=1siLxrpm_PE[13].
www.sciencedirect.com/science/article/abs/pii/S0008884610000517[14].
www.uakron.edu/nccs[15].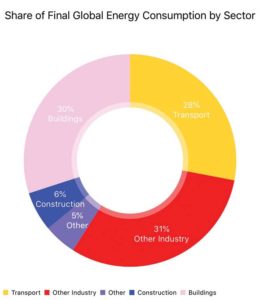 Nano-infused cements
The most advanced type of colloidal silica-based hydrating cement technologies are nano-infused cements (NIC). While they are also available in topical applications like older colloidal/nano-silica technologies, their real power is that they can be delivered directly to admixtures like early clay, shale, and slate. This technological advance has created a new paradigm in construction.
Chris Bishop, vice-president of concrete and flooring of a North American contracting group says, "We are using this technology to make stronger concrete with reduced CO2, and reduce construction schedules with its high early
strength gains."
What used to take 28 days now takes three to four. The infused nano-sized silica particles accelerate and control hydration while promoting additional pozzolanic reactions. Since the reactions between silica, water, and cement grains are happening on such a minute scale, the chemical reactions create incredible C-S-H growth in the capillaries of the concrete. The water trapped in the capillaries comes into contact with additional silica and cement grains to create even more C-S-H and reduce permeability. Being able to cure in this manner allows for the elimination of the many layered mobilizations of moisture membranes, curing compounds, and sealers, thus creating concrete with increased durability with fewer weeks of construction.
"Framers and other trades can begin their work faster due to increased early strength, while the reduced porosity means flooring materials like tile, carpet, or coatings can be installed without additional moisture mitigation," says Tony Marotta, president of a national concrete contracting firm.
This gives precious weeks back to the production schedule and reduces CO2 from operating a construction site. Generators and cranes burn less diesel fuel, lights consume less electricity, and vehicle transport operations are lessened, all of which release significantly less CO2 into the atmosphere.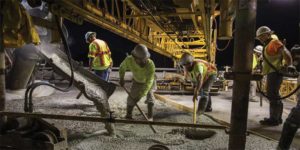 Sustainability and reducing CO2
With stronger concrete comes reduced corrosion and spalling, fewer cases of delamination, and better defenses against natural and manmade causes that all too often shorten concrete's lifespan. It is laudable CO2 emissions are reduced when making concrete for a project. However, if the material is installed inefficiently, relying heavily on moisture mitigation schemes as has been the case in the past, a structure's functionality is shortened. This increases a building's carbon footprint throughout its life-cycle as a result of frequent repairs.
"Internal curing with nano-infused cements is a significant shift in the material nature of concrete," says Albert Raffin of Raffin Concrete. "It allows us to build better concrete in less time with fewer materials and fuel—that is good for the environment and the client."
With the ability to now build faster and stronger using nano-infused admixtures, the concrete produced is not dead or dry, but rather like, as Roman philosopher and naturalist Pliny the Elder described the concrete of his day as, "a single stone mass, impregnable to the waves and every day stronger." With stronger concrete comes less corrosion and decay, thus limiting the amount of energy and materials required for repairs.
Conclusion
After water, concrete is the most widely employed construction material on earth. It is an easy technology to teach and its basic components are found nearly everywhere. While there has been a strong focus on lowering CO2 emissions during the creation of concrete, ways to reduce them during material placement have not received adequate attention. Building better concrete that is truly sustainable and not dependent on more CO2 to survive has received almost no attention. Internally curing concrete with colloidal silica technologies like nano-infused cements represents a fundamental change in the battle for reducing CO2 emissions. As architect Marc Thorpe said[18] (albeit in a different context), this is "an opportunity now to start a movement toward less," (also, the author would like to thank Fred Bernstein for his contributions in style and editing).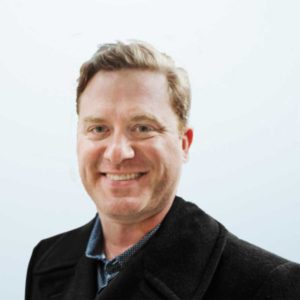 [19]Chris Bennett, CSI, is passionate about developing sustainable concrete solutions to replace expensive, outdated methods. His firm, Bennett Build, leads project teams in lowering the economic and environmental costs of designing and implementing stronger concrete systems. Bennett also facilitates AEC training in Canada and the United States and serves as a director at the CSI Next chapter and is also the president-elect. He can be reached at www.BennettBuild.us[20]. Follow him on Twitter @BennettBuild.
Endnotes:
[Image]: https://www.constructioncanada.net/wp-content/uploads/2020/09/Donadeo-sept-2016-05_hiresjpg.jpg
Wet curing: http://www.nature.com/articles/nmat1871
cement production: https://www.iea.org/news/cement-technology-roadmap-plots-path-to-cutting-co2-emissions-24-by-2050
energy-related CO2 emissions: https://www.worldgbc.org/sites/default/files/UNEP%20188_GABC_en%20(web).pdf
concrete ships: https://www.wearethemighty.com/amp/the-us-navy-built-12-concrete-ships-for-world-war-i-2554842867
concrete's service life: http://www.escsi.org/internal-curing
internal curing: https://www.fhwa.dot.gov/pavement/concrete/pubs/hif16006.pdf
Fly ash: http://www.thebalancesmb.com/fly-ash-applications-844761
chemical coaxing: http://cen.acs.org/sponsored-content/sand-water-and-a-bit-of-chemistry.html
Brownian motion: http://www.britannica.com/science/Brownian-motion
nano: http://www.nano.gov/nanotech-101/what/nano-size
www.scribd.com/doc/289729357/Chemistry-of-Silica-Ralph-Iler: http://www.scribd.com/doc/289729357/Chemistry-of-Silica-Ralph-Iler
www.youtube.com/watch?v=1siLxrpm_PE: http://www.youtube.com/watch?v=1siLxrpm_PE
www.sciencedirect.com/science/article/abs/pii/S0008884610000517: http://www.sciencedirect.com/science/article/abs/pii/S0008884610000517
www.uakron.edu/nccs: http://www.uakron.edu/nccs
[Image]: https://www.constructioncanada.net/wp-content/uploads/2020/09/Graph.jpg
[Image]: https://www.constructioncanada.net/wp-content/uploads/2020/09/csi-concrete-1.jpg
architect Marc Thorpe said: http://www.architecturaldigest.com/story/how-top-designers-architects-and-entrepreneurs-are-responding-to-climate-change
[Image]: https://www.constructioncanada.net/wp-content/uploads/2020/09/Chris-bennet.jpg
www.BennettBuild.us: http://www.BennettBuild.us
Source URL: https://www.constructioncanada.net/nano-infused-cements-part-of-a-movement-toward-less/
---