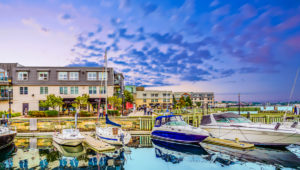 A $130-million art gallery will be built in a new, modern space on the Halifax waterfront on land currently being used as a parking lot.
The Art Gallery of Nova Scotia aims to enhance the province's position as a leader in the visual arts, inviting the world to celebrate its culture.
"The Art Gallery of Nova Scotia has a bold future ahead," said Nancy Noble, gallery director. "For the past year, we have been engaging with Nova Scotians to reimagine what it means to be an art gallery and a new facility will allow us to set a course that matches the province's diversity and ambition."
The 13,192-m2 (142,000-sf) facility will feature large public spaces, and additional areas to better showcase the provincial art collection, much of which has been in storage for many years.
The new gallery will also be able to accommodate larger exhibitions and a greater diversity of artists. Visitation is expected to grow from 64,000 to over 120,000 annually.
The federal government will contribute up to $30 million. The Art Gallery of Nova Scotia will lead a capital campaign, which is expected to raise about $30 million. The province will cover the remaining cost of the project, at least $70 million, with the exact amount to be determined following competitive processes.
Next steps are preparatory work and the selection of a design team through a competition. Government will work collaboratively on the design competition and once complete, will issue the tender and begin construction.