Museum image graces new $10 bank note
by nithya_caleb | April 17, 2018 10:28 am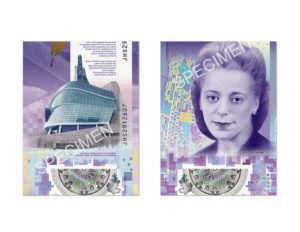 A prominent image of the Canadian Museum for Human Rights[2] (CMHR) will be featured on the new $10 bank note[3] as a symbol of Canada's ongoing pursuit of rights and freedoms, the Bank of Canada[4] has revealed.
The front of the note displays a portrait of Viola Desmond[5], whose defiant stand against racial segregation is featured in an exhibit housed in the CMHR's Canadian Journeys gallery. An external façade of the CMHR, overlaid on an image of its glowing alabaster rampways, will be portrayed on the back, alongside an excerpt from the Charter of Rights and Freedoms and an eagle feather representing the continuing struggle for recognition of the rights of Indigenous Peoples in Canada.
When the new $10 bill begins circulating later this year, Desmond will become the first Canadian woman to be portrayed on the front of a regularly circulating Canadian bank note. The CMHR will also become the first museum ever pictured on a Canadian bank note.
"This is an incredibly proud day for everyone who contributed to building the Canadian Museum for Human Rights. This museum has become a place of inspiration for visitors from across Canada and around the world," said Gail Asper, a member of the CMHR's board of trustees.
Endnotes:
[Image]: https://www.constructioncanada.net/wp-content/uploads/2018/04/Bill.jpg
Canadian Museum for Human Rights: https://humanrights.ca/home
$10 bank note: https://www.bankofcanada.ca/banknotes/
Bank of Canada: https://www.bankofcanada.ca/banknotes/
Viola Desmond: https://humanrights.ca/exhibit/one-womans-resistance
Source URL: https://www.constructioncanada.net/museum-image-graces-new-10-bank-note/
---