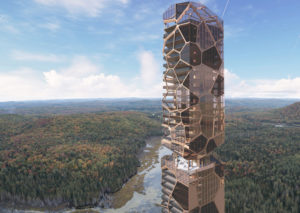 MU Architecture proposes a new way of inhabiting and occupying a space with the Pekuliari project, a 200-m (656-ft) tower that stands in the heart of the vast forest of Outaouais, Qué.
The tower emerges out of the hilly Québec landscape in the middle of the boreal forest in the form of a huge pile of rocks, which recalls the mineral and vegetal character of its surroundings. A large vault sits at the podium base.
The irregularly shaped exoskeleton structure gives the envelop an organic and cellular aspect contrasting with the crystalline glass façade underneath. Composed with multiple toned glass panels, the façade shimmers under the sun. Designed with parametric architecture technologies, this envelope gives the 48-storey tower a sculptural look. The structure also supports a large greenhouse.
A large function room with huge bay windows offers views on the lake and wildlife. A terrace and an arched quay come to create an observatory. The large open space room merges further into a bar and a cigar lounge.
A parking lot with a bat cave type hidden entrance in the woods is located at the basement level, adjacent to a large wine cellar, entertainment rooms, and an indoor shooting range.
The tower comprises 50 luxury units, a majority of which are spread over complete floors, varying between 372 and 743 m2 (4000 and 8000 sf) each. These fully automated pieds-a-terre combine esthetics, avant-garde design, and cutting-edge technology.
In addition to rainwater and snow collection, greywaters will be filtered and released into the environment through natural and ecological processes. Windmill systems and photovoltaic (PV) glazing will ensure self-sufficiency.