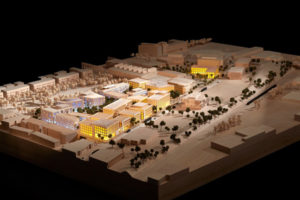 The development plan for the Technopôle Angus has just obtained a Leadership in Energy and Environmental Design (LEED) v4 Platinum certification for sustainable neighbourhood design.
Located in the heart of a central residential district of Montréal, this new mixed-use green neighbourhood will transform a former industrial park into an urban village where businesses and families coexist in a vibrant, welcoming, and environmentally responsible community. Besides creating jobs, providing affordable housing, and reintegrating the site into the neighbourhood, the project will integrate green infrastructure, including an energy loop and a collection system reusing 95 per cent of rainwater.
The site is fully pedestrianized. Landscaping will also promote biodiversity, thus creating a network of comfortable, quality public spaces that, along with the new local businesses and easy access to alternative means of transport, will support a more sustainable lifestyle.
Technopôle Angus is designed by multidisciplinary firm Provencher_Roy in collaboration with NIP Paysage, Vinci Consultants, and Pageau Morel.
The LEED-ND (Neighborhood Development) certification was jointly developed with the Natural Resources Defense Council and the Congress for the New Urbanism. It aims to reduce the impacts of urban growth on the environment and on citizens by encouraging intelligent neighbourhood design, sustainable mobility, and economic vitality.