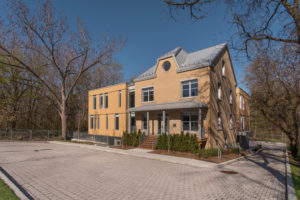 Institut Pacifique, a Montreal-based conflict resolution and mediation facility for youth, has undergone a major renovation and extension project, to keep its historic property and its roots within the local community.
The building is part of the Ancien-Village-du-Sault-au-Récollet heritage site, which was designated by the City of Montreal in 1992. The project concept by CB Architecte aimed to restore the appearance of the original house and to highlight the nature park which borders the property to the south and the west.
After 40 years of work, growth, and development, the community organization began to notice certain issues with its headquarters: a serious lack of space, difficulty reconciling the building's various uses, fire safety concerns, and architecture which clashes with the occupants' vitality. The structure's close quarters and disrepair constituted an obstacle to the organization's social and educational contribution to the community.
The original house's geometry was recovered by demolishing the series of additions from the 1970s and 1980s, which had been erected without any consideration of the area's character. The new extension enclosed the house on the south and west facades, acting as a link between the existing built environment and the nature park.
Numerous openings on the three levels of the new volume provide visual continuity with the landscape. The alignment of the north and east facades, the alignment of the parapet and cornice, the glassed-in spaces at the junction of the new and old sections, and the extension's contemporary look were all conceptual choices. The colour scheme of the materials used on the exterior ensures everything has a cohesive appearance, while the wood finish is a testament to the desire to integrate with the natural context.
Inside, the original house's geometry and architectural particularities were also showcased. Beneath the cathedral ceiling, a mezzanine was added to maximize the convertible floors. This space became one of the project's key points of interest, with its double-height ceilings, natural light, bull's-eye window, and exposed structure. On the home's interior walls, where the extension joins the existing structure, alcoves made of reclaimed wood provide workspaces, waiting rooms, and places for impromptu meetings.
The Institut Pacifique's updated headquarters will allow it to keep growing, developing, and helping the community. The organization can now reach and welcome more people in a safe building which reflects its mission, whether through programs for young people, special events, or venue rentals.