Montreal firm unveils addition to Canada Pavilion
October 5, 2021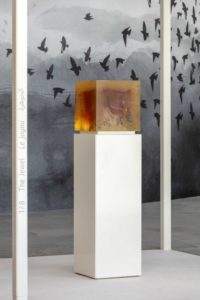 KANVA, a Montreal-based firm, unveiled TRACES, a multi-sensorial, thought-provoking exhibition on the grounds of the Canada Pavilion at World Expo 2020 Dubai.
The project was commissioned by Global Affairs Canada and produced by the National Film Board of Canada (NFB) to populate the plaza grounds leading up to the pavilion entry hall.
To capture and convey a message of urgency surrounding the issue of rapid habitat decline, KANVA came up with the idea of fossilization of an inhabited landscape, where birds are suspended in motion in a fossilized form that preserves 'TRACES' of their existence.
KANVA's expression unfolds in a series of eight boxes, spread across the plaza grounds of the Canada Pavilion in a seemingly random fashion as a counter to the traditional linear grid of human development. The eight boxes are: The Jewel, The Nearness, The Memorial, The Forgotten, The Seat, The Gathering, The Sanctuary, and The Awareness.
Each museum box, measuring 2.4 x 2.4 x 2.4 m (8 x 8 x 8 ft), contains an object that embodies the beauty of dynamic life in suspension, complemented by multimedia interactions developed with artist Étienne Paquette.
The Jewel initiates the conversation by placing fossilized birds on a pedestal, with integrated lighting that presents them as beautiful, but troubled jewels. The journey transitions to The Nearness, featuring a wall of filtered light highlighting the movement of birds within a vertical landscape.
The Memorial's rectangular base with integrated lighting showcases fossilized birds as they hover over a landscape of wood strata. The Forgotten symbolizes the careless discarding of objects humanity once cherished, with stacked cubes of illuminated prototypes that have been cast aside and underappreciated.
Upon opening The Seat's desk, waterscape sounds and a 3D-printed bird are unveiled in a seascape of black ink, depicting the effects of ocean spills through the distressed gaze of a bird struggling to survive.
The Gathering embodies the process of problem solving around a dinner table, inspired by a glowing cube of fossilized birds emerging from the centre of the table. Unsettled sounds of distressed birds gradually evolve into soft and soothing harmonies that symbolize hope as visitors sit together at the table.
By contrast, The Sanctuary has white canvas animated by a flowing stream of birds immersed in a human-free world. The Awareness consists of four chairs, one in each corner of the box, with an empty bird cage, door open, suspended from the ceiling. Intensifying white noise indicates that something is wrong. As visitors take a seat and face each other, the ambiance softens to a soothing garden serenade of singing birds. But the cage is empty, and the bird has left.
Endnotes:
[Image]: https://www.constructioncanada.net/wp-content/uploads/2021/10/MA_KANVA.jpg
Source URL: https://www.constructioncanada.net/montreal-firm-unveils-addition-to-canada-pavilion/
---