Montgomery Sisam Architects appoints three new principals
by brittney_cutler_2 | January 11, 2022 3:34 pm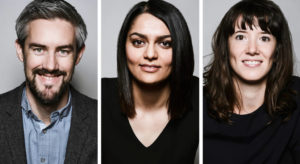 Montgomery Sisam Architects has appointed three new principals: Neda Basharat, Shannon Wiley, and Enda McDonagh.
Each new principal embodies a balance of design sensibility, technical skill, industry knowledge, and is recognized for their contributions and skillset.
Neda Basharat is a founding member of Montgomery Sisam's committee for Diversity, Equity, and Inclusion, and has been instrumental in the firm's efforts to serve vulnerable populations for more than six years.
Shannon Wiley has been central to the success of the multi-award-winning University of Toronto Center for Engineering Innovation and Entrepreneurship. An member of Montgomery Sisam's team for more than ten years, Shannon has helped expand the firm's experience and expertise in the public, private, and higher education sectors.
Enda McDonagh has lead some of the first ever modular supportive housing projects for the City of Toronto. He joined Montgomery Sisam ten years ago with experience from across the globe, including projects in Ireland, Australia, and the US.
Each of the firm's new principals will play a leading role in Montgomery Sisam Architects' ongoing endeavours.
Endnotes:
[Image]: https://www.constructioncanada.net/wp-content/uploads/2022/01/BC_Montgomery.jpg
Source URL: https://www.constructioncanada.net/montgomery-sisam-architects-appoints-three-new-principals/
---