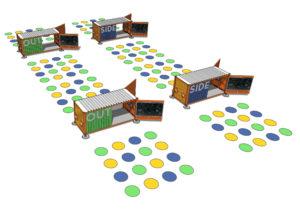 Weiss Architecture & Urbanism Limited and Wonder Inc. have unveiled Outside the Box, a modular 'front of classroom' teaching support unit designed to facilitate healthy, fresh air education during the time of COVID-19.
The modular teaching support unit facilitates and supports outdoor teaching. With two back-to-back outdoor classrooms, it can be easily placed down on school lots or fields. It is a lockable unit that swings open to provide generous chalk and whiteboard presentation surfaces. Inside the unit, closets and cabinets provide teachers with storage and organizational space. Space for stackable desks, recycling bins, and other items is also provided.
Outside the Box is equipped for best practice student and staff hygiene practices and COVID-19 precautions. Bright, graphically marked hand cleaning stations are provided on the exterior for easy and safe access by the students. The interior is fitted with a 'Cleaning Centre' to wipe down chairs, assignments, and supplies commonly handled by students and staff. An 'Assignment Chute' provides a safe, physically distanced way for students to turn in work. Outside the Box offers a bright and colourful space, and can be customized for each site or client.
In older schools, mechanical systems and windows that provide a comfortable and healthy cross breeze are often lacking. Unfortunately, upgrading systems and buildings to provide adequate fresh air carries a great cost and takes considerable time. However, Outside the Box provides a practical and alternate solution for facilities where the interior environments may not be able to provide the indoor air quality (IAQ) needed. Its durable design will continue to provide support for healthy outdoor, fresh air teaching, and learning long past the end of this pandemic.