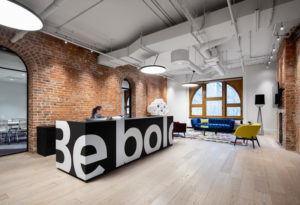 Design firm inside Studio recently collaborated with lighting agency LumiGroup to bring a bright, new office space to Montreal's historic Windsor Station.
The 5110 m2 (55,000 sf) office space, curated for technology company OneSpan, melds updated architecture with interior design. inside Studio was tasked with relocating the company's head office to a more central setting of the city. An initial space study led to the former downtown passenger depot of the Canadian Pacific Railway. The studio then embarked on a demolition process which unearthed additional original brick, arches, fireplaces, and original wood panelling.
Upon arrival at the OneSpan office, original brick walls and archways frame the reception area. An adjacent corridor, floored in white oak and bordered by accents of the company's signature purple and lilac, leads into the heart of the L-shaped floorplan. In playing with scale, inside Studio selected large, pivoting disc lights hang from suspended fixtures, which succeed in animating and providing shape and size to the corridor.
In the conference rooms, the firm opted for decorative lighting solutions which temper the ambiance of traditional meeting rooms with a more residential feel. Linear lighting from above illuminates individual workspaces, while sleek track lighting with outputs helps showcase the office's architectural elements.