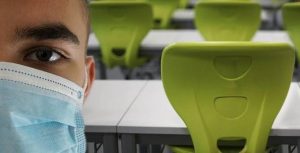 The Passive House Institute (PHI) urges the use of ventilation systems in classrooms because they help reduce the risk of COVID-19 infections.
With the start of the cold season, attention is increasingly shifting to schools and the question of how to reduce the risk of infection with COVID-19 in classrooms. The German Environment Agency (UBA) recommends frequent air replacement; in schools that do not have ventilation systems, this air exchange should be achieved by opening the windows.
UBA expressly advises against mobile air purification units as a substitute for ventilation with fresh air. These mobile appliances should only be used in addition to active ventilation. PHI endorses this recommendation and draws attention to the advantages of a ventilation system with heat recovery.
Fresh air mandatory
According to a recent publication from UBA, the likelihood of high concentrations of infectious particles existing in classrooms is huge due to the rooms' low air volume in relation to the high number of individuals.
"Because most schools in Germany are not equipped with a central ventilation system, air exchange via the windows is the best and often the only way to let fresh air into the classroom," said UBA.
Removing infectious particles
According to UBA's recommendations, the rooms should be aired every 20 minutes for three to five minutes in the cold season, and for 10 to 20 minutes in the summer. With this ventilation, not only infectious particles, but also moisture, particulate matter, and carbon dioxide (CO₂) will be removed.
Air purifier no substitute for ventilation
In contrast, mobile air purification units are usually not able to quickly and reliably eliminate viral particles in indoor air, especially in densely occupied classrooms, according to UBA. Additionally, they cannot remove CO₂ or moisture.
Click here to learn more about ventilation systems in classrooms.