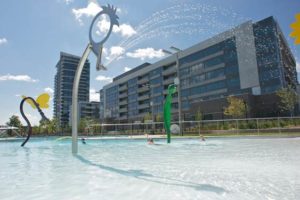 The City of Mississauga, Ont., recently installed solar panels as part of a pilot program to heat the Lions Club of Credit Valley Outdoor Pool. This is the first City outdoor pool to be heated with solar panels with the goal of saving energy and reducing greenhouse gas (GHG) emissions.
Over the summer months, City staff will monitor its performance to verify the anticipated benefits. Information collected will allow the City to gather knowledge, requirements, constraints, and prepare for future installations of solar panels at other indoor and outdoor pools.
The installation of the solar panels took just one month. City staff anticipates savings of approximately 5,650 m3 (199,528 cf) gas, which translates to a reduction of 10.7 tonnes (12 tons) of GHG emissions.
The City is also working on other conservation initiatives including heat recovery systems at four indoor pools, block heater control, cold water ice resurfacing system, ice plant optimization, and building automation system (BAS) upgrades.