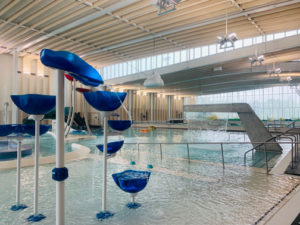 The Minoru Centre in Richmond, British Columbia, is the recipient of the 2021 architecture prize for accessibility from the International Olympic Committee (IOC), International Paralympic Committee (IPC), and International Association for Sports and Leisure Facilities (IASLF).
The annual Distinction for Accessibility Award aims to increase the accessibility of all sports and leisure facilities and architectural structures worldwide.
The city's new state-of-the-art fitness and aquatic facility received the honour thanks to accessibility features such as:
Design features in the aquatic centre to enable easy access to the pools, such as ramps, gentle steps, infinity edges, and mobile lifts;
Drop-off areas to facilitate accessible modes of transportation;
Barrier-free front doors and an accessible reception centre; and
Change room facilities that significantly exceed width requirements, such as its oversized shower and changing stalls designed to accommodate families with young children or individuals using an assistive mobility device.
The facility at 7191 Granville Avenue boasts a spacious 790 m2 (8500 sf) fitness centre with a full complement of cardio, strength, and stretching equipment, as well as a large 176 m2 (1900 sf) fitness studio that hosts a variety of group fitness classes.
It is also one of the province's premier aquatic facilities with a 650 m2 (7000 sf) leisure pool, a rapid flowing river channel, two 25 metre pools for recreational and lane swimming, along with an over water climbing wall, drop slide, and diving board. The aquatic centre is also home to Canada's largest hot tub, as well as the country's only municipal cold plunge pool.
The IOC, IPC, and IASLF presented the award in Cologne, Germany. There were 86 contenders for the various categories of this year's international architecture prize, coming from countries such as Japan, Montenegro, Peru, Syria, Canada, Australia and the U.S. Winners include the Tottenham Hotspur Stadium in London, England; Helsinki Olympic Stadium in Finland; and the Ariake Gymnastics Centre in Tokyo, Japan.