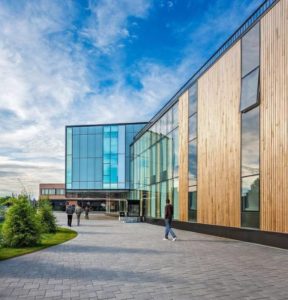 The Canadian Architectural Certification Board (CACB)/Conseil Canadien de Certification en Architecture (CCCA) granted Laurentian University's McEwen School of Architecture (MSoA), Sudbury, Ont., the professional Master of Architecture Program 'Initial Accreditation' for a term starting July 1. The school's accreditation status covers both programs leading to the Master of Architecture (M.Arch) degree.
CACB accredits programs that are intended by their institution to be professional degrees in architecture leading to licensure. Professional accreditation of a program means it has been evaluated by CACB and substantially meets the educational standards comprising, as a whole, an appropriate education for an architect. MSoA is the 12th accredited school in the country.
"This is a major milestone in our history and an incredible eight-year journey for all of us since the doors opened," MSoA said in a press release. "Thank you to all who supported the idea of an architectural school in northern Ontario—with bilingual (French and English) design studios, a focus on Indigenous learning, wood design, hands-on learning, and Northern communities."
The full CACB/CCCA Accreditation process had three phases: Eligibility, Candidacy, and Initial Accreditation. After launching the undergraduate program in September 2013, the McEwen School of Architecture was successful in its bid for CACB eligibility in 2017. It achieved CACB Candidacy Status in 2018 and submitted its third and final 'Architecture Program Report' for Initial Accreditation last year. MSoA was eligible to apply for the final stage of Initial Accreditation after the "completion of a minimum of two years of continuous candidacy status." The school also had to follow the criterion of "completion of the professional degree program, for which accreditation is sought, by one graduating class." This means the M.Arch graduating classes of 2019 and 2020 will be grandfathered in according to CACB procedures.