Mass timber parking garage to demonstrate material's versatility
by arslan_ahmed | September 13, 2023 3:39 pm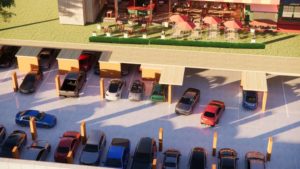 A prefab mass timber company is planning an inaugural mass timber parking structure in British Columbia. This initiative seeks to transform the construction industry by substituting conventional concrete and steel with the sustainable and renewable material.
While the project is currently in its initial planning phases, it has already received favourable responses from various quarters. The use of mass timber in the construction of the parking structure is poised to set the stage for wider adoption of this sustainable material in various types of construction undertakings.
A representative of the company, Massive Canada, says that in the structure, the vertical supports will be glue-laminated (GLT) 304 x 609 mm (12 x 24 in.) posts. The posts will support a podium slab made of cross-laminated timber (CLT) panels, which will be oriented in two directions. These CLT panels form a rigid structural platform that is as strong as concrete. Roofing material applied directly on the wood surface will keep the water out. Topsoil will then be added to create a landscaped courtyard.
Anticipated advantages of the mass timber parking structure include a diminished carbon footprint and accelerated construction timelines. The incorporation of mass timber into this endeavor aligns with the growing inclination toward sustainable construction practices, as it is a renewable resource that can be procured locally—reducing transportation-related emissions.
Endnotes:
[Image]: https://www.constructioncanada.net/wp-content/uploads/2023/09/Mass-timber-parkade-Cross-laminated-surface-serving-as-podium-for-landscaped-courtyard-above-web.jpg
Source URL: https://www.constructioncanada.net/mass-timber-parking-garage-to-demonstrate-materials-versatility/
---