Mass timber commercial building opens in Langford, British Columbia
by brittney_cutler_2 | January 11, 2022 3:40 pm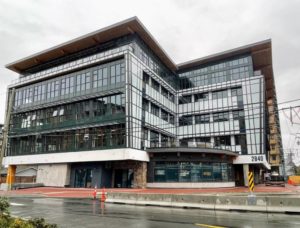 Langford, British Columbia, welcomes a newly opened, five-storey, mass timber commercial building, one of the first buildings of its kind.
Located on Vancouver Island, Terminus at District 56 sits on one of the highest seismic regions of North America. As a result, the building required its lateral system to be highly ductile while  still allowing the wood to be exposed. The five-storey mass timber post-and-beam building contains the first buckling-restrained braces housed within a timber frame.
The construction is one of two mass timber projects from Design Build Services, and Aspect Structural Engineers in Langford, B.C. Jack James Architect of Victoria provided architectural services on the Terminus at District 56 project and Structurlam of Penticton, B.C., supplied the mass timber.
Structurlam manufactures mass timber, a sustainable category of building construction featuring structural laminated wood components for walls, roofs, floors, beams and columns. A key economic benefit of mass timber is the ability to design, model and prefabricate the structural elements of a project offsite, accelerating on-site production schedules by up to 25 per cent compared to traditional on-site building with steel and concrete.
Tallwood 1 at District 56, located adjacent to Terminus, is also slated to open in early 2022 as the first 12-storey mass timber tower built under the revised 2018 BC Building Code, allowing for provisions for mass timber structures up to 12 stories for interested communities.
Endnotes:
[Image]: https://www.constructioncanada.net/wp-content/uploads/2022/01/BC_Structurlam.jpg
Source URL: https://www.constructioncanada.net/mass-timber-commercial-building-opens-in-langford-british-columbia/
---