When construction is complete in March 2013, the facility will be a 10-storey, 472-bed hospital—designed especially for patients with complex chronic diseases. It will incorporate a 10th-level terrace with a vegetated roof system for patient wellness, and is targeting certification under Canada Green Building Council's (CaGBC's) Leadership in Energy and Environmental Design (LEED) program.
In the project's development, PCL collaborated with teams from Modern Niagara Toronto Inc., (MNTI) and The Plan Group. PCL used 3-D modelling software to create the building's architectural and structure features and assemble the mechanical and electrical models created by MNTI and Plan into one combined model for review.
Due to the number of stakeholders involved in the project, PCL's Randy Stefan, project superintendent, encouraged the team to think ahead and open up communication between owners, architects, engineers, and contractors. He found great value in using BIM processes to help visualize the project and plan the work.
Josh Beynon, virtual construction modeller for the PCL components of this project, says the virtual models were a great visualization aid to the user groups and site staff as they allowed for the final project to be shown in detail without the need to actually construct it.
"As the project was already using BIM for co-ordination purposes, the models being used for that regard were easily adapted for use in the visualization process with only minor additions, such as furniture and people," he explains.
The models also allowed the hospital owners, Bridgepoint Health, to visually communicate to the public what would happen to the surrounding community. The team found using virtual design tools in the planning and communication stages created clarity among all stakeholders, enabling them to create a safer project that moved forward with minimal delay.
The models were also critical in the clash-detection process. For the most part, large clashes with structural, mechanical, and electrical elements were automatically identified using clash-detection software and rectified through weekly team meetings. Reviewing these potential issues, clashes, and interferences in the design stage allowed for a faster, more accurate, and cost-effective resolution than what would normally be dealt with in the field.
While the project is still in the final stages of development, Darius Zaccak, PCL project director, has no concerns in terms of timing.
"Knowing BIM will identify clashes and interferences among the various disciplines, and these clashes will be resolved through a competent and diligent team, gives me great confidence in knowing the schedules are achievable as later surprises have been minimized and, in some cases, eliminated," he says.
This is just one example of how BIM can be used to maintain momentum on a project by identifying clashes and problems before they arise. This author can also cite another construction firm that faced the problem of processing requests for information (RFIs) through 14 separate teams to reach approval, often translating into 40 to 60 worker hours per RFI.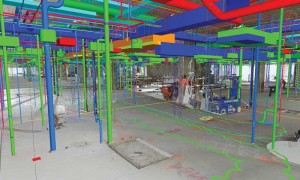 A healthcare facility project in Massachusetts found using BIM processes and compatible software saved them 194 RFIs, or 65 per cent less than similar projects that did not use BIM. In total, this saved 7949 worker hours, for a total savings of $814,374, which was reinvested in higher-quality medical equipment and building materials. Ultimately, BIM is a vital tool to have when embarking on these complex projects with multiple stakeholders.
Using the P3 approach, builders are responsible for operating and/or maintaining the building for a minimum of 25 years. The BIM process is increasingly mandated for P3 projects to handle the 'as-built' conditions that arise. In a perfect world, the BIM process involves the major disciplines, trades, contractors, and even the owners to co-ordinate before construction starts. Today's current BIM construction environment may have some design or construction trades still using 2-D while the rest of the consortium is using 3-D. In these cases, leading professionals have been seen reducing their risk by modelling what was originally delivered in 2-D, and maintaining a co-ordinated and complete model.
The critical element is ensuring facility managers have a seat at the table from the beginning. Understanding and communicating what the facility manager will need for building operation and maintenance will ensure the information and data within the BIM model is available at turnover. As the facility managers assume their P3 responsibility, the contractor can better rely on the intelligence of a model repository for future upkeep or floor plan alterations, rather than searching through the silos of drawing project data.
Conclusion
By adopting the public-private partnership approach and building information modelling to save on construction and future maintenance costs, local and provincial governments ensure projects are being completed at competitive pricing values, within strict budgets and timeframes. At the same time, contractors are able to use innovative technology methods to deliver not only a built structure, but also a high-quality, data-rich model that can be used by facility managers throughout the project's lifecycle.
Using this approach and these technologies, infrastructure and the built environment will continue to grow and be maintained, especially at a time when the economic environment requires different thinking that works for both public and private sectors.
Terry D. Bennett, LS, LPF, MRICS, LEED AP, is the senior industry program manager and strategist for civil engineering and planning at Autodesk. He is responsible for setting the company's strategy for technology serving the planning, surveying, civil engineering, and heavy construction industries. Bennett has been a practicing professional for almost 30 years and was the company manager and lead designer for a civil engineering, geotechnical, and land surveying firm directing its services throughout the New England region within the United States. Over the last 25 years, he has been a global author and lecturer on the impact of technology to the infrastructure and urban planning, engineering, and construction industries focusing on sustainable approaches to urban infrastructure redevelopment. Bennett can be reached via e-mail at terry.bennett@autodesk.com.

Control the content you see on ConstructionCanada.net!
Learn More.