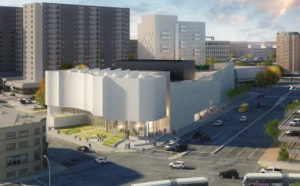 The Inuit Art Centre (IAC), a 3716-m2 (40,000-sf) addition to the Winnipeg Art Gallery (WAG) in Winnipeg, Man., is set to open this fall. When completed, it will be the country's largest exhibition gallery devoted to indigenous art.
Winnipeg has an outspoken indigenous culture representing over 12 percent of its population. To reflect that heritage, the city broke ground on the IAC in spring 2018.
Designed by Los Angeles-based firm Michael Maltzan Architecture in collaboration with local associate architect Cibinel Architects Ltd., the IAC connects to the southern edge of the original museum building designed by Gustavo da Roza in 1971. The building will also provide a lecture theatre, research areas, a visible art storage vault, and additional facilities for an expanded studio art and educational program for the local community.
An expansive, light-filled gallery on the top floor will house over 13,000 Inuit carvings, textile prints, and other artwork provided by WAG and the Nunavut government. The design centres on the Inuit Vault, a double-height storage area visible from the outside with a shelving system that parallels the curvature of the envelope. The interior will be accessible to curators and scholars to offer an even more intimate relationship with the museum's collection.
Stephen Borys, director of WAG, hopes the addition will inspire the local community to engage with the country's rich cultural heritage. "We will be able to connect a classroom in Winnipeg to a classroom in Rankin [Inlet] or Iqaluit," Borys told CBC.
Prior to designing the addition, Michael Maltzan joined Borys on a trip to Nunavut to learn more about Inuit communities and the unique landscaping that serve as their background. According to a press statement, the resultant design "draws on the ephemeral qualities of northern environments that celebrate historic and contemporary Inuit art and culture." The all-glass ground level appears to effortlessly support the sculptural walls of the upper floors, which were designed to subtly reflect the Nunavut landscape and feature organically shaped skylights that will suffuse light throughout the columnless gallery space.