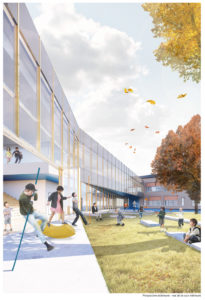 Québec-based nonprofit organization Lab-École has unveiled designs for elementary schools to be expanded or built in Gatineau, Maskinongé, Québec City, Saguenay, Shefford, and Rimouski. With the exception of the sketch for the Québec City school, which was produced by the Lab-École team, all of the winning designs stem from an architectural design competition held earlier this year.
The five winners are:
This was the first school building design competition to be held in Québec in nearly 50 years. More than 160 proposals were received for the five school projects. Due to the COVID-19 pandemic, Lab-École made the decision in March to delay the public unveiling of the designs.
"We felt holding an architectural design competition was a logical way to keep up our innovative momentum," said Pierre Thibault, Lab-École co-founder. "Competitions generate a wide variety of designs. They also help demonstrate Québeckers' immense creativity, which will be put in service of the educational sector. It was important for Lab-École to step off the beaten path and invite novelty. The impressive number of proposals we received also shows Québec architects want to contribute to these new living environments."
The new schools will offer more space and flexibility, which will help students learn better, be more active, and eat better. They will provide bright gathering spaces and inviting dining halls. Wider hallways will form 'learning alleyways' that facilitate teaching practices adapted to the needs of today's students. The designs stem from two years of intensive research-creation, consultations, and the mobilization of hundreds of key players (teachers, architects, researchers, citizens, parents, daycare service representatives, municipal elected officials, organizations, and more).
"These schools will be a huge step forward. They are a far cry from the traditional two-storey boxes that currently exist. These are pavilion-style learning environments, with sloped roofs, more organic shapes, and other details," said Pierre Lavoie, Lab-École co-founder. "It is a completely different approach."
The first Lab-École schools should be opening their doors for the fall 2022 semester.