Kazim Kanani and Tom Newton inducted into CSC College of Fellows
by sadia_badhon | June 3, 2020 6:17 am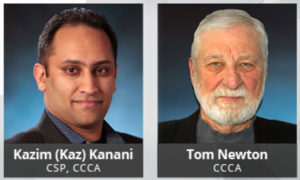 Kazim Kanani, CSP, CCCA, of the Toronto Chapter[2] and Tom Newton, CCCA, of the Calgary Chapter[3] have been elected to the CSC College of Fellows.
Kanani has been a CSC member since 2007 and achieved his Certified Specification Practitioner designation in 2014 and his Certified Construction Contract Administrator designation in 2016. He is presently a senior associate and specification specialist at Quadrangle Architects in Toronto.
Newton has been a CSC member since 1990 and a participant in the design and construction industry for over five decades. He became a Certified Construction Contract Administrator in 2003 and is presently an independent specifications consultant working on a wide spectrum of projects ranging from tenant improvements to major new infrastructure projects such as hospitals and care facilities.
Endnotes:
[Image]: https://www.constructioncanada.net/wp-content/uploads/2020/06/Opener-1.jpg
Toronto Chapter: https://toronto.csc-dcc.ca/
Calgary Chapter: https://calgary.csc-dcc.ca/
Source URL: https://www.constructioncanada.net/kazim-kanani-and-tom-newton-inducted-into-csc-college-of-fellows/
---