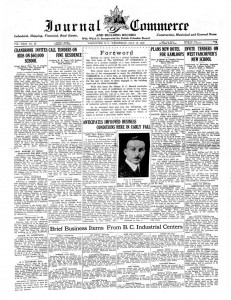 The Journal of Commerce (JOC) will commemorate its 100th anniversary in June.
"We're truly excited and grateful to embark upon this monumental occasion to celebrate 100 years of service to the construction profession in Canada," said Mark Casaletto, vice president and general manager for the publication's company, Reed Construction Data (RCD) Canada.
"This 100-year celebration is a testament to the dedication and loyalty of our staff, customers, and the thousands of people who have contributed to the Journal of Commerce over the past century in some capacity," he continued. "That said, we will not rest on our laurels and will continue to push our innovation agenda to ensure that we continue to serve the industry for the next 100 years. I am really proud of what we have accomplished and excited about what we have planned for the future."
The first issue was published on June 9, 1911. It was originally known as theVancouver Building Record, but went through a number of name changes during its first 12 years, Bradley Fehr, JOC editor, told Construction Canada Online. The newspaper is celebrating the milestone by publishing a four-page supplement 10 times this year.
"Each 'Decade in Construction' is a look back at a particular 10-year span of the newspaper's history," he said. "The supplements include stories, photos, renderings, ads, and tenders, as well as an overview of the decade."
An invitation-only gala will be held June 9 in Vancouver to celebrate the anniversary. In addition to the initiatives and event, there will also be a special Thursday edition of the Journal of Commerce published on June 9, and this summer the Architectural Institute of British Columbia (AIBC) will be hosting a historical display tied to the anniversary at its downtown Vancouver office.