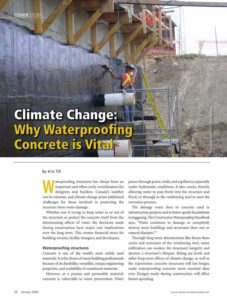 After the publication of the article, "Climate Change: Why Waterproofing Concrete is Vital," by Kris Till in the January 2020 issue of Construction Canada, we received a letter from CSC member Russell Snow, CSP, CTR, BSS, LEED AP.
It read:
Dear editor,
I agree providing a complete waterproofing system not only contributes to the long-term durability of the structure, but also to the occupants' comfort, health, and safety. As a manufacturer and supplier of various types of waterproofing materials, including integral waterproofing, it must be noted there is not one specific material or system that is applicable for every type of installation. The author leads the reader to believe an integral waterproofing material is the solution to every waterproofing application. This is certainly not the case. Integral waterproofing does have its place in the industry, as do a number of other types of materials. All materials will perform if selected appropriately, installed, and maintained as required for the project along with other components to form part of an overall, effective waterproofing system.
Some observations and feedback are as follows:
the article strongly promotes integral waterproofing without mentioning other products or systems;

none of the limitations of integral waterproofing have been noted, which include but are not limited to crack sealing, transitions, joints, and movement;

integral waterproofing has the capability of sealing cracks up to ½ mm (8 mils), but there are products with the ability to seal up to 6 mm (¼ in.); and

flexible waterproofing membranes can handle expansion and contraction and accommodate fastener penetrations to a specific width whereas integral cannot.
Additionally, the article notes membrane lifespan is only 10 years. In my experience, installed membranes have been performing for over 50 years.
The author quotes, "Membranes usually last one to 10 years and manufacturers would warrant the product would be free from defects. However, since the material is installed, it is never warranted against leaks. Having said that, some manufacturers work with installers to offer two- to three-year extended warranties." This is factually incorrect. A number of manufacturers offer warranties that far exceed two to three years and many offer comprehensive material and labour warranties.
It is also important to realize if a material is being selected for both water and vapour protection below-grade, a crystalline material may not be the best option due to the limited vapour permeability performance. The author's company does state a reduction of 20 per cent in vapour permeance with their integral material.
The author falsely states fluid-applied membranes are only being used for dampproofing. However, a number of reputable manufacturers provide fluid-applied solutions in hot- and cold-applied applications for both vertical and horizontal applications. Further, reputable manufacturers also provide sheet-applied products for horizontal, vertical, blindside, and bath tub applications. These materials are suitable for poured concrete and structural shotcrete. It is true a performance factor for a good waterproofing material is hydrostatic resistance, which is why the majority of manufacturers test their materials to an industry consensus standard—ASTM D5385, Standard Test Method for Hydrostatic Pressure Resistance of Waterproofing Membranes, where the requirement is 690 kPa (100 psi). This exceeds the 500 kPa (72.5 psi) referenced within the article, but it is difficult to compare, as there is no North American standard to make the comparison. I do know that when installed correctly, crystalline waterproofing materials can perform well under hydrostatic conditions.
Finally, the article says fluid and sheet-applied materials are difficult to install or need highly skilled labour. It is true trained or skilled persons are required for the installation of these materials, and like all products, if not installed correctly, there can be failure. This is precisely why waterproofing manufacturers work very closely with the installers. With an admixture, it is not just a matter of adding the material at the batch plant and walking away, as there needs to be strict quality control on this, and if not monitored or mixed correctly, issues could certainly arise. It is in the best interest of the owner to retain an independent inspection and testing agency, regardless of the type of waterproofing material being specified, to ensure a quality installation.
The article leans heavily to the integral waterproofing system, and thus appears as solely promoting this type of waterproofing.
Sincerely,
Russell Snow, CSP, CTR, BSS, LEED AP, product group manager – building envelope, W. R. MEADOWS.