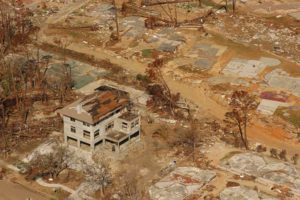 By Cameron Ware
Natural disasters are inevitable throughout North America, leaving millions of households exposed to damaging winds and weather conditions. Lasting a few hours to days, damage from these disasters takes years to fully repair infrastructure, rebuild homes, restore buildings, and get families and communities back on their feet.
For example, a December 2021 storm that barrelled through Kentucky and neighbouring states spawned at least 66 tornadoes, resulting in 89 deaths and more than 11,700 damaged buildings. In less than two days, the twisters caused approximately $2.9 billion in reconstruction costs.
This catastrophic storm, and others like it, are unavoidable, but there are building design and construction methods to minimize property damage and reduce the loss of lives when a storm does strike.
One of these construction methods is insulating (insulated) concrete forms (ICF). An ICF is a type of concrete formwork designed to remain in place as part of the permanent construction of a building. Primarily used for exterior walls, ICF assemblies comprise two layers of rigid expanded polystyrene (EPS) insulation connected by webs to establish the core width and provide a hollow center. As the ICFs are being stacked, reinforcing bars are placed inside and once the concrete is pumped and consolidated to create a monolithic concrete core.
Offers stronger built construction
What if an impending hurricane or tornado did not have to mean total destruction? Designing or reinforcing structures with durability are the answers to reducing risks and ensuring properties and occupants are better protected in the face of some types of extreme weather.
Resilient design is the proactive process of designing buildings, landscapes, infrastructure, and entire neighbourhoods to mitigate the impact of environmental hazards, while maintaining livable conditions. According to the Resilient Design Institute (RDI), these design practices help "respond to natural and manmade disasters… including sea level rise, increased frequency of heat waves, and regional drought."1
Resilient design principles prioritize adaptability, sustainability, and social equity for solutions that function for both the short- and long-term. At their core, ICFs are monolithically poured concrete walls and significantly stronger than all types of conventional construction. This statement is substantiated by the fact that they are accepted by the ICC-500 for the construction of 402-km/h (250-mph) rated storm shelters.3
In the construction industry, resilient design considers material selection, assembly testing for air and water leakage, building information modelling (BIM), and integrative systems. All this requires co-ordination of the owner, architect/engineer, and contractor to reap the full benefits. The key advantages of applying resiliency concepts are:
Extended service life of the building and reduced maintenance costs by effectively resisting hurricane- and tornado-force wind and airborne debris.
Increased occupant safety.
Continuous business operations.
Decreased recovery time for individuals, families, and communities.

Control the content you see on ConstructionCanada.net!
Learn More.