Improving building performance with sustainable metal roofing
September 1, 2011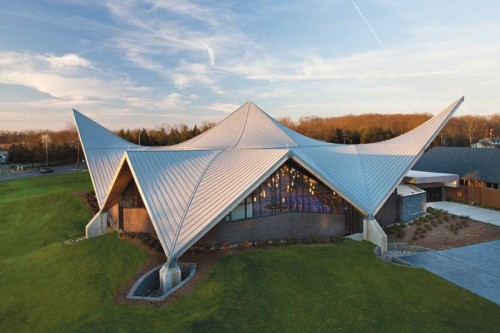 By Scott Kriner, CSI, AIA, LEED AP
In the last 10 to 12 years, the benefits of sustainable design and green building practices have proven effective in increasing the efficiency of energy, water, and materials use. Buildings designed by these standards also produce less carbon emission, which reduces environmental impact. Additionally, people who live and work in green buildings tend to be healthier and more productive.
The push to both conserve existing resources and reduce energy consumption is targeted on improving overall energy performance, particularly in commercial buildings. According to statistics from the U.S. Green Building Council (USGBC), the building industry is the biggest energy user in North America, accounting for approximately 39 per cent of the primary energy and 71 per cent of the electricity used overall.
In determining how to improve the performance of the entire building envelope, the first step is to evaluate what is often the least energy-efficient component—the roof. Many roof systems have R-values as low as R-5 or R-10 (0.9 or 1.8 RSI). According to energy statistics from the U.S. Department of Energy's (DOE's) Oak Ridge National Laboratory (ORNL), about one-third of a typical building's energy goes toward heating and cooling, and half of that can be attributed to heat gain or loss through an inefficient roof.
Specifying cool metal as a roofing material can help improve energy efficiency while adding environmental benefits inherent in the material. Metal roofing has high recycled content, and is recyclable or reusable at the end of the building's useful life. This lowers the demand for raw materials and reduces construction waste. Metal roofs are also designed to last 50 years or more, depending on the substrates, paints, and coatings. Natural metals such as zinc and copper that have no added exterior paint or coating will form a natural patina that inherently protects the surface and maintains its esthetic appeal for a long time.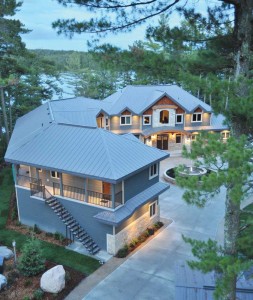 Good air quality is also ensured with metal roofs because they are inert and do not create off-gassing or release volatile organic compounds (VOCs) during installation compared to other roofing types. A cool metal roof can help mitigate the heat island effect, thereby reducing smog and improving air quality, especially in larger cities.
For improved energy efficiency, metal offers options such as cool coatings and above-sheathing ventilation (ASV). In addition to improving air quality, the integration of a rainwater harvesting system with a cool metal roof can contribute toward improved water efficiency.
Cool roofing
Various paint finishes and coatings with specially formulated infrared reflectivity can be specified to create cool metal roofing—a solution that offers economic and environmental benefits. Coatings help to naturally cool buildings in warmer climates and temperatures, save on building operating costs, and reduce peak utility demand.
The different colour and style options offered by cool metal roofing allow it to be specified into various designs and structures. It should also be noted that metal can be used on low-slope roof applications with a slope as low as 0.25:12, and on steep-slope applications that are 2:12 or greater.
In making decisions about roofing, the specifier must first consider how the solar energy striking the roof surface will affect the performance. This issue involves three primary components of the solar energy spectrum:
ultraviolet (UV) rays, which account for only three per cent of the total energy striking the earth's surface;
visible light (VIS), which is about 40 per cent of the total energy; and
infrared (IR), which is the largest of the three at 57 per cent.
Although one cannot see the effects of IR, it is felt as heat when it strikes a surface.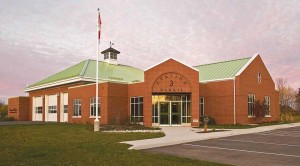 Solar reflectance is the portion of solar radiation immediately reflected from a surface and is reported as a decimal or percentage. The reflectance from a painted metal surface depends on the colour and pigmentation used in the coating. Any energy not immediately reflected away is absorbed by the roof or wall surface, causing it to warm up. Some of this heat energy can be removed by air flowing over the surface during the day (i.e. convective cooling) and some is emitted as infrared energy into the night air (i.e. thermal emittance). Some heat can be removed from the surface through conductive heating through the roof surface.
The premise of cool roofing is to find the best combination of solar reflectance and thermal emittance to keep the surface temperature low enough to be considered 'cool.' The heat energy re-emitted to the night sky is measured using a term called thermal emittance and is expressed as a decimal. Materials with high thermal emittance cool down faster than those with low thermal emittance.
When applying these calculations to metal roofing, specifiers must consider whether the surface is painted or unpainted. In broad terms, unpainted or natural metal has relatively lower thermal emittance and high reflectance than coated metal.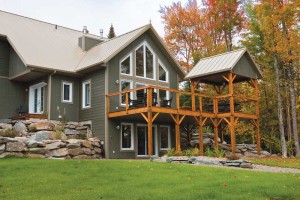 When a paint finish is applied through coil coating, the characteristics are dictated by the paint formula. Depending on the coating, this can increase the thermal emittance to 0.80 or more. Most pre-painted roofs are highly reflective and emissive, which significantly reduces heat gain into the building.
In specifying cool roofing, reflectance and emittance need to be carefully evaluated. For example, in a test comparison of three roof types—a white non-metal roof, a black membrane, and an unpainted metal roof—the white roof had a high solar reflectance level and high thermal emittance. The black membrane had a much lower solar reflectance but high thermal emittance, and the unpainted metal roof had high reflectance and low emittance. Of the three roof types, the black membrane results in the highest heat gain into the building. Metal roofing with a similar solar reflectance to that of the white roof would fall between the black membrane and white roof in terms of heat gain because of its lower thermal emittance.
As a guide, one can refer to a rule of thumb developed by the U.S. Lawrence Berkeley National Laboratory (LBNL) that states for every 0.01 incremental increase in roof reflectance, the surface temperature decreases by 0.59 C (1 F). For every 0.10 increase in the value of roof reflectance, the building's annual heating/cooling costs drop approximately $0.21/m2 ($0.02/sf). Although the figures vary by location and utility rates, these guides help estimate possible options.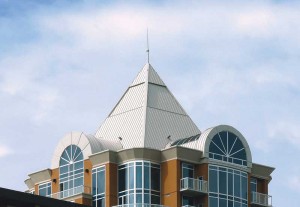 Cool paint systems also provide extended performance. Roof paint finishes are usually negatively affected by heat, UV rays, and moisture. The coatings in cool roofs lower the roof's temperature and thereby extend the life of the paint systems. The cooler surface temperatures also decrease thermal movement of the roof from expansion and contraction and, therefore, reduce wear and tear on the roof.
Colour consideration is important, especially with steep-slope roofs. New infrared reflective pigments allow darker colours to reflect more solar energy than before without any change to the system colours or costs. The same colours can now have higher reflectance when special infrared reflective pigments are added.
Roof research
Cool roofing has been the subject of many different research studies at national laboratories in the United States. One such study at ORNL compared the weathering of low- and steep-sloped metal roofs in various colours over a three-year period with other types of roof materials. From these findings, ORNL created an energy savings model that uses a black roof as the benchmark and includes variables depending on the roof type installed. This has been turned into an online calculator available for general use at www.roofcalc.com. It can help predict building cooling and heating savings based on the roof type, construction type, location, and specific climate conditions.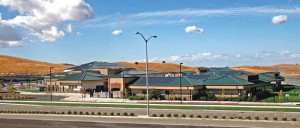 Another important value from research at ORNL is the comparison of metal with other types of roofing for degradation. Results of a study conducted by the Cool Metal Roofing Coalition (CMRC) in co-operation with ORNL, show that over a three-year period, a white polyvinylidene fluoride (PVDF) painted roof can lose less than five per cent of its solar reflectance because it sheds dirt more readily than many other roof products. Other materials may lose more than 40 per cent over the same three-year period primarily because they soil and retain dirt. (For more information, visit coolmetalroofing.org[7]).
The Cool Roof Rating Council (CRRC) has also been very active in this area. Although its work began as a result of California's Title 24, Energy Efficiency Standards for Residential and Non-residential Buildings, CRRC has members throughout North America. The methodology developed by CRRC for measuring radiative properties of roofing products has been referenced in many other codes and standards. (Additional information can be found at www.coolroofs.org[8]).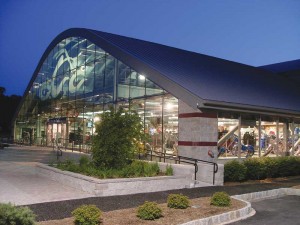 Engineering options
Metal roofing offers a great deal of flexibility in engineering to achieve both design and performance objectives in different environments. In cooler climates where heating dominates, cool roofing objectives may be met with unpainted metal roofs. In warmer climates where high reflectance and emittance are desirable, a pre-painted metal roof is the best solution.
Metal roofs are also very compatible with integrated solar energy systems. Solar panels can be mounted on a metal roof without penetrating the roof surface. Since metal is highly durable, it can outlast most solar technology systems that will degrade and wear out after 25 to 30 years, which occurs within the metal roof's estimated service life.
Additional considerations regarding solar systems relate to the climate in the building's location. Solar panels 'work' based on the amount of sunlight in the area, which is known as the solar insolation. Climate has very little effect on the photovoltaic (PV) units, except when snow and ice are prevalent. Rooftop PV units covered with snow for extended periods will suffer in their ability to generate electricity because the sunlight is not reaching the PV surface. Once the snow melts off the panels, the PV units will once again generate electricity. However, the mechanical attachment of PV units to metal roofing is not affected by climate.
Metal roofs can also be installed over existing flat roofs to eliminate tear-off, diverting roofing debris from the solid waste stream and keeping it out of the landfill. This method of retrofitting a roof with metal can also create a ventilation cavity to help cool or heat a building. This phenomenon referred to as above-sheathing ventilation creates a chimney effect that can draw in cooler air at the eave and dissipate heat beneath the new roof surface by exhausting it at the ridge vent. Alternatively, the heated air from the ASV can be directed back into the building for space or process heating as needed.
Another benefit of the natural convective cooling created by ASV is the ability to remove excess moisture from beneath the metal roof. In cool weather conditions, the air layer from ASV can act as an insulating layer to prevent heat loss through the roof system. In locations where there is both warm and cool weather, use of ASV with retrofitting can minimize both heat gain and heat loss with the same system.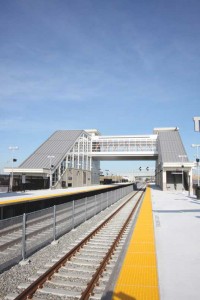 ORNL studies have shown how ASV can help reduce heat gain through the roof assembly by up to 45 per cent when combined with a cool roof surface. (See "A Compilation of Home Energy Assessments for Cool Roofs, Above-sheathing Ventilation, Radiant Barriers, and Other Attic Strategies," led by William Miller, Andre Desjarlais, and Jan Josny, PhD, of Oak Ridge National Laboratory (ORNL), and presented in 2010 at the THERM XI Conference in Clearwater, Florida).
The need to create more energy-efficient buildings is often motivated by changes in building codes and standards, as well as rebates and incentives from utilities or government entities. Many incentives exist for cool metal roofs, so it is important to research what is available in each building's locale. (Visit oee.nrcan.gc.ca/corporate/incentives.cfm[11]).
Benefits in LEED
For projects seeking certification under Canada Green Building Council's (CaGBC's) Leadership in Energy and Environmental Design (LEED) program, a building using metal roof components can qualify for specific points in this process.
The use of a cool metal roof can qualify for one LEED point under Sustainable Site (SS) Credit 7.2, Heat Island Effect-Roof, if the roof meets minimum solar reflectance index (SRI) values and covers a minimum of 75 per cent of the roof surface area. A low-slope roof (< 2:12) must have a minimum SRI of 78, and a steep-slope roof (> 2:12) must have a minimum SRI of 29. In practical terms, to qualify for these SRI values, pre-painted metal roofs must have a reflectance of 66 per cent or greater for a low-slope and 30 per cent or greater for a steep-slope.
Typically, metal in roof installations contains at least 25 per cent recycled content. Depending on the specific metal substrate, the recycled content can be as much as 80 per cent. This can raise the building's overall average recycled content and help the building qualify for up to two points under Material and Resources (MR) Credit 4, Recycled Content.
Additionally, the metal roof panels composed of steel, aluminum, copper, or zinc are 100 per cent recyclable at the end of the roof's service life. Any scrap generated during construction is likewise fully recyclable provided it is properly segregated. This can allow the building to qualify for up to two LEED points under MR Credit 2, Construction Waste Management.
When a building is renovated, an existing metal roof is often capable of performing well for many more years. This fact can help that building project to qualify for up to two points under MR Credit 1.1, Building Reuse.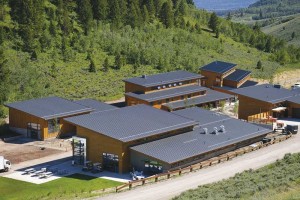 Metal roofs can also help improve water efficiency in buildings. Since metal roofing is a smooth, inert, and dirt-resistant surface, it provides an excellent surface from which to capture rainwater. Therefore, a building project that incorporates a rainwater harvesting system integrated with the metal roof can use rainwater inside the building for greywater applications or for landscape irrigation. This approach can qualify the building for up to seven points under Water Efficiency (WE) Credit 1, Water Efficient Landscaping, Credit 2, Innovative Wastewater Technologies, and Credit 3, Water Use Reduction.
Cool metal roofs also contribute to the calculated energy reductions in buildings. As a result, buildings that use cool metal roofs can qualify for LEED points from the energy simulation calculations under Energy and Atmosphere (EA) Credit 1, Optimize Energy Performance.
Members of the metal industry are working on calculating the embodied energy in cool roofs and are updating this information to provide a more accurate representation of lifecycle assessment (LCA) information. LCA is a technique to assess environmental impacts associated with all the stages of a product's life from cradle to grave of the materials' life.
Conclusion
Metal roofs are sustainable, durable, and have a low impact on the environment during the building use phase. The use of metal roofing can help a building project reduce solid waste in construction, rein in energy consumption in all climates, and improve the air quality and water efficiency in buildings and their surroundings. They can be applied to all types of buildings in any climate and offer various esthetic options and operating cost benefits.
Scott Kriner, CSI, AIA, LEED AP, serves as the technical director for The Metal Initiative (TMI) and the Metal Construction Association (MCA) in Glenview, Ill. He has 30 years of experience in the metals and metal construction industries. Kriner can be reached via e-mail at skriner1@verizon.net.
Endnotes:
[Image]: http://www.constructioncanada.net/wp-content/uploads/2016/02/Met_opener.jpg
[Image]: http://www.constructioncanada.net/wp-content/uploads/2016/02/Met_VicElite_Cottage.jpg
[Image]: http://www.constructioncanada.net/wp-content/uploads/2016/02/Met_Marquis_Virgil-Fire_Full-View.jpg
[Image]: http://www.constructioncanada.net/wp-content/uploads/2016/02/Met_VicElite_MaisonEastman.jpg
[Image]: http://www.constructioncanada.net/wp-content/uploads/2016/02/Met_Tradition100_MontanaTower.jpg
[Image]: http://www.constructioncanada.net/wp-content/uploads/2016/02/Met_Douglas-Adams-Middle-School.jpg
coolmetalroofing.org: http://coolmetalroofing.org
www.coolroofs.org: http://www.coolroofs.org
[Image]: http://www.constructioncanada.net/wp-content/uploads/2016/02/Met_occ2.jpg
[Image]: http://www.constructioncanada.net/wp-content/uploads/2016/02/Met_Meadowlands-Sports-Complex-Station.jpg
oee.nrcan.gc.ca/corporate/incentives.cfm: http://oee.nrcan.gc.ca/corporate/incentives.cfm
[Image]: http://www.constructioncanada.net/wp-content/uploads/2016/02/Met_Teton-Science-0380.jpg
Source URL: https://www.constructioncanada.net/improving-building-performance-with-sustainable-metal-roofing/
---