ICFs, wood, and the changing face of mid-rises
by Katie Daniel | September 15, 2015 11:29 am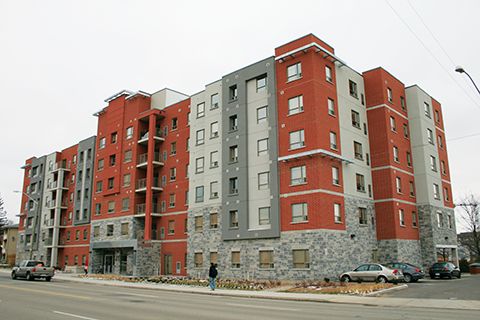 By Andy Lennox
The face of mid-rise construction may well be changing in Canada. In British Columbia, about 285 wood-frame mid-rise buildings have been built or are under construction, and the trend is moving east as six-storey wood frame construction is in the process of being adopted by several provincial codes. Meanwhile, in Ontario, more than 125 mid-rise buildings have been constructed with insulating concrete forms (ICFs) over the last decade, with additional such projects under design and in construction across the country.
Both technologies represent new ways of building; their advocates feel these solutions are faster and less expensive than traditional methods. This article compares wood-frame and ICF mid-rise construction over aspects ranging from structural details, airtightness, and thermal and energy performance requirements to moisture management, window detailing, and fire performance.
Background on wood and ICFs
The need for cost-effective options with regard to development in urban areas is one of the driving factors behind the momentum for wood-frame mid-rise construction. Additionally, the fact lumber is one of Canada's prime exports has also been a factor in this increased interest in expanding the use of wood-frame technology. As the forest products industry has testified before senate committees, other countries want to see our codes adopt wood technology before they consider the prospect of importing Canadian wood-frame technology and products.
Similarly, ICFs represent an advancing technology. A permanent formwork system for reinforced concrete construction, these interlocking modular units are dry-stacked into position and filled with concrete. They can be used for almost any concrete wall—interior or exterior, below grade or above-grade, short or tall.
A conventional exterior concrete wall contains six building components:
concrete;
reinforcement;
insulation;
air barrier;
vapour barrier; and
strapping.
ICFs combine these six components into a single building system that is installed by a single crew at the same time to enable labour cost savings. It is the successful marriage of two proven technologies—concrete and expanded polystyrene (EPS)—with the concrete mass sandwiched between two layers of foam insulation.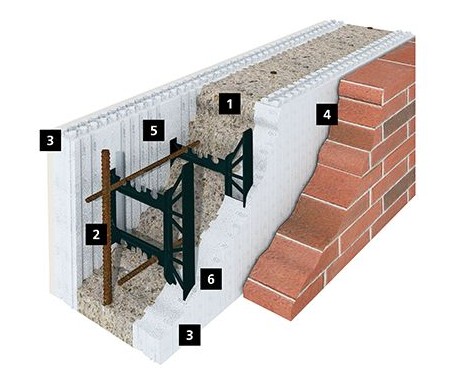 Structural considerations
Wood design is starting to utilize cross-laminated timber (CLT) as one of the main structural components for six-storey buildings. This material is designed for increased dimensional stability and strength in framing systems (especially suitable for longer spans in floors, walls, and roofs), and comprises multiple layers of wood, with each layer oriented crosswise to the next. Wood structural design is governed by Canadian Standards Association (CSA) O86, Engineering Design in Wood, with the Canadian Wood Council (CWC) providing a supporting document in its Wood Design Manual.
In the construction of six-storey wood-frame buildings, a concrete platform is usually still used to construct the underground parking level; it serves as the supporting base for the remaining floors of the structure, which will be wood-framed. Typical framing for exterior walls for six-storey structures will be at least 2x6s in terms of size, and there is usually 30 to 40 per cent framing in these walls.
ICF construction is governed by CSA A23.3, Designing Concrete Structures in Canada, and by American Concrete Institute (ACI) 318-14, Building Code Requirements for Structural Concrete. The assembly is most commonly used for above-grade exterior walls, but can also be specified for frost walls, below-grade walls, parking garages, interior demising walls, shear walls, elevator shafts, fire-rated walls, and load-bearing walls. For a six-storey structure, the concrete core in the ICF forms will likely be 200 mm (8 in.) thick. In ICF mid-rises, the floor system tends to be 250-mm (10-in.) precast concrete planks that can span up to 13 m (42 ft).
New seismic design requirements of the National Building Code of Canada (NBC) are having a dramatic effect on both building systems, depending on the location. For instance, British Columbia has recently instituted rigorous seismic design requirements for some municipalities and the codes staff are currently looking at ways of adjusting these requirements so as not to exclude some wood-frame structures.
It should also be noted wood-frame mid-rise buildings are limited to six storeys, while ICF construction is not limited in height by the building code.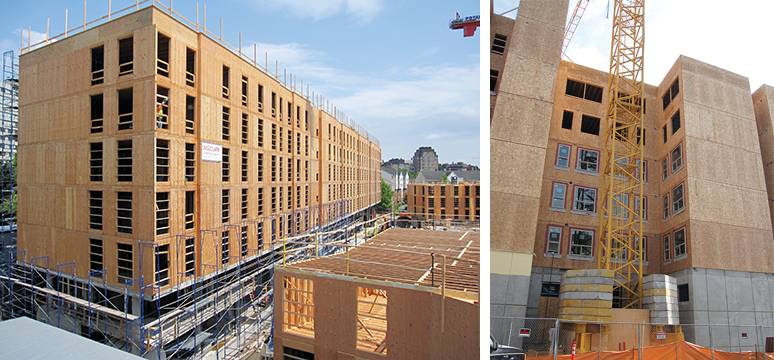 Air barriers
The air barrier must be continuous, durable, airtight, and resistant to the design wind load, without negatively affecting vapour diffusion or drying. It is important to note a six-storey building has to withstand 10 to 20 per cent more wind pressure than its three- or four-storey counterpart.
A key component of modern energy-efficient buildings is achieved by ensuring the wall system is a barrier to air movement; this involves proper detailing to complete continuity and achieve the desired performance.
ICFs are monolithic in nature and inherently airtight—they go a long way toward providing an overall air barrier so there is typically no additional air barrier product required. For ICFs, the air barrier challenges are contained in the detailing around penetrations such as roof junctures, doors, windows, and utilities.
Wood framing will require the same level of detailing at these penetrations, and the exterior walls will also be typically constructed with drained and ventilated rainscreen-clad wall assemblies. A common rainscreen is a 20-mm (¾-in.) cavity with vertical strapping every 200 to 400 mm (8 to 16 in.) on centre (o.c.), depending on the choice of exterior veneer.
Wood frame can use a sealed membrane for the exterior air barrier, but care must be taken it does not rip away in the wind before strapping placement. Alternatively, a sealed sheathing approach can be used.
Water and vapour control
Both systems require water penetration and vapour control, which is achieved by membranes or sheathing papers.
In the case of ICFs, no secondary plane of protection is required as natural properties of the mass wall allow it to shed most of its surface water. The mass properties also allow it to absorb moisture, which later evaporates. The EPS layer itself sheds the water and acts as an additional layer of penetration.
Depending on the configuration of the wood-frame system and local climate conditions, a drainage layer may be necessary unless it is incorporated into an additional insulation that is required.
Construction and moisture management
Construction and moisture management can be challenges for a wood-frame system. The building season in Canada varies, and moisture protection during construction is critical—too much absorption into the structure can result in delays. Care must be taken to not apply impermeable membrane materials over wet wood.
Potential shrinkage after the fact—as much as 13 mm (½ in.) per floor—is also a concern for wood framing. At six storeys in height, this factor must be accounted for since other elements of the building (e.g. masonry walls, cladding, plumbing, and elevator shafts) will not shrink. However, the wood industry has provided guidance on how to flash and allow for this shrinkage without compromising the air barrier detailing. The use of engineered timber and floor joists is another way to eliminate the shrinkage issue.
ICFs do not have the shrinkage issues, and their concrete mix designs allow for almost complete hydration removing the concern of excess water. Detailing around windows and penetrations must be addressed due to the thickness of the walls to ensure no water gets beyond the outside surface. Recent testing[4] of ICF window details demonstrate sufficient resistance to water penetration at high wind pressures that could be experienced in coastal regions.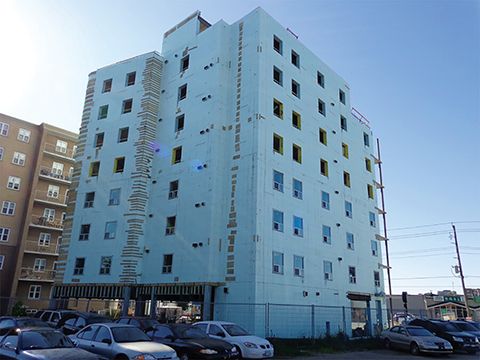 Fire performance
Both wood framing and ICFs require fire suppression design for the occupants, but a bigger concern has been a recent series of construction fires in highly developed urban areas. The move to a six-storey wood-frame building has added requirements for protecting the sites during construction, such as the proposed guideline in Ontario to require a security guard onsite whenever the crew is not present.This is further complicated when additional combustible external insulation is added, pushing some fire authorities to require non-combustible protection of theses surfaces during the construction.
This requirement also impacts the EPS surface of ICFs, as that material is classified as combustible. This means ICFs stored onsite must be protected from any fire safety concerns.
Insulation and thermal performance
Canadian building codes for six-storey structures have historically specified the required nominal R-values of the individual building components themselves, without accounting for thermal bridging within the overall wall assembly.
A thermal bridge is an area of a wall that has a significantly higher heat transfer than the surrounding materials; the result is an overall reduction in the assembly's effective thermal performance.
Canadian codes are now based on the total effective R-value of the entire wall, which requires additional insulation to be added to meet the new requirements for systems with significant thermal bridging, such as wood-frame construction. Under the 2011 National Energy Code for Buildings (NECB), for example, the whole-wall R-value requirements for above-grade walls are now:
R-18 for Climate Zone 4;
R-20.4 for Climate Zone 5;
R-23 for Climate Zone 6; and
R-27 for Climate Zone 7.
Most of the wood-frame mid-rise buildings have so far been constructed in Climate Zone 4 in temperate British Columbia, which requires an effective R-18 for above-grade walls. As wood-frame construction enters the colder regions of the country, increased R-values and amounts of insulation will be required.
Sufficient wall cavity capacity to hold insulation then becomes an issue with the a framing factor of 30 to 40 per cent, which is typically what is required for mid-rise wood framing. (As a comparison, the typical framing factor in residential construction is about 25 per cent.) This will lend itself to more insulation being fastened to on the outside of the wall, which, in turn, adds to installation labour and time requirements.
ICFs inherently have foam panel insulation on both the interior and exterior surfaces. The wall assembly R-value of some ICF brands is in the R-23 to R-25 range. Some ICF systems in the market may adapt their product to the increasing R-value requirements by developing products that have thicker forms—some equally on both sides, and others with an increase on one side. Other ICF technologies use a higher R-value EPS bead to hit the R-27 target.
Generally speaking, the new thermal performance requirements have resulted in some increase in cost for wood-frame mid-rises in all climate zones, and for ICF-built mid-rises in Climate Zone 7.
An additional thermal performance element to be considered is the thermal mass of the wall system. This is a material's ability to absorb and store heat energy. A lot of heat is required to change the temperature of high-density materials like concrete, brick, and tiles. They have high thermal mass, whereas lighter materials—such as wood studs—have low thermal mass.
Although the thermal mass effect is difficult to model, enhanced building thermal performance (including controlling of heating and cooling peaks) in ICF buildings can be seen[6].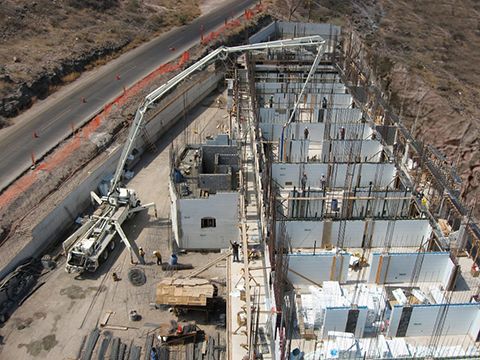 Economic considerations
In comparison to the traditional mid-rise building methodologies, both ICF and wood framing proponents make impressive claims for speed of construction. As an example, some experienced wood mid-rise framers feel comfortable planning on framing 1400 m2 (15,000 sf) of wall per week. On the other hand, installers of ICF mid-rise buildings typically plan to complete a full storey every two weeks—one to build the ICF walls and another to install the floors (usually precast planks). This should be irrespective of cold or wet weather conditions.
Proponents of wood-frame six-storey construction[8] generally claim a potential savings of 15 to 20 per cent versus conventional concrete, due to the lower cost of materials used. However, it is also generally accepted the cost of wood-frame construction will increase by eight to 10 per cent for four to six-storey buildings over that of one to three-storeys.
The ICF camp also claims substantial savings versus conventional methods, with those savings based not on lower-cost materials, but a lower labour cost due to superior efficiencies and speed of construction. ICFs usually do not require any winter heat to protect the concrete while it cures. This can result in a significant cost savings versus conventional concrete methods.
As the vast majority of wood-frame mid-construction has been on the West Coast and most ICF mid-rise construction has taken place in central Canada, the head-to-head cost implications at this time are largely hypothetical. Once a sufficient number of mid-rise wood-frame buildings and ICF mid-rise buildings have been constructed in the same market areas, and possibly by the same builders, a true cost comparison can be made.
Income generation potential is another factor. Wood-framed mid-rise buildings are felt to typically generate revenue at a space efficiency rate in the mid-80s, while concrete mid-rises can have a slightly higher space efficiency rate, into the high 80s, typically due to simpler floor plans and elevator shaft designs.
There are some interesting economic issues yet to be explored. For instance, the costs of construction and occupant insurance are both currently under review to determine whether there is an impact of insuring six-storey wood-frame structures versus ICF construction.
It will also be interesting to determine the importance placed on long-term energy efficiency by the developers, owners and occupants of mid-rise buildings.
Conclusion
This article provides a brief representation of the challenges of constructing six-storey buildings—of course, there will also be other variables, ranging from owner preferences, sustainability considerations, and esthetics. As the new technologies allowed by the codes see more presence in the market, the industry will be in a better position to assess which building system suits them and their clients' needs.
Andy Lennox is the inaugural chair of the Council of ICF Industries (CICFI). He has worked in the insulating concrete form industry for 18 years in various sales, marketing, and management capacities. Lennox can be contacted by e-mail at andy@logixicf.com[9].
Endnotes:
[Image]: http://www.constructioncanada.net/wp-content/uploads/2015/09/IMG_2140.jpg
[Image]: http://www.constructioncanada.net/wp-content/uploads/2015/09/6_Step_3d-diagram_hires.jpg
[Image]: http://www.constructioncanada.net/wp-content/uploads/2015/09/edit11.jpg
Recent testing: https://hpo.bc.ca/sites/www.hpo.bc.ca/files/download/Report/ICF_Wall_Testing_and_Modeling_Report.pdf
[Image]: http://www.constructioncanada.net/wp-content/uploads/2015/09/NUDURA-28UniversityAve2.jpg
seen: http://www.researchgate.net/publication/267844273_Field_Energy_Performance_of_an_Insulating_Concrete_Form_%28ICF%29_Wall
[Image]: http://www.constructioncanada.net/wp-content/uploads/2015/09/NEWT1_LCP_07-07_4_2.jpg
wood-frame six-storey construction: http://wood-works.ca/wp-content/uploads/Bedford-Report-Unlocking-the-Potential-for-Mid-Rise-Buildings-Six-Storey-Wood-Frame-2013-DRAFT.pdf
andy@logixicf.com: mailto:andy@logixicf.com
Source URL: https://www.constructioncanada.net/icfs-wood-and-the-changing-face-of-mid-rises/
---