Heritage Toronto award winners announced
November 7, 2019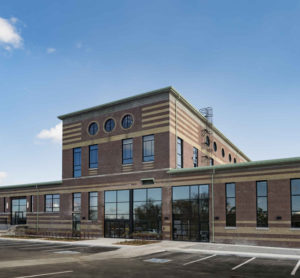 Heritage Toronto[2] honours an Art Deco incinerator in Toronto's Stockyards neighbourhood and a landmark in the city's downtown with the 2019 William Greer Built Heritage Award.
The award honours outstanding achievements in conservation, craftsmanship, and adaptive reuse, and projects of any scale, completed between January 1, 2017 and December 31, 2018, were eligible.
The 150 Symes Road project by Jedd Jones Architect and Philip Goldsmith Architect has transformed and repurposed an incinerator into a community gathering space, venue, and brewery. The jury noted the quality of the craftsmanship and its impact on the neighbourhood's revitalization.
One Spadina Crescent by NADAAA Architects[3], ERA Architects[4], and Adamson Associates[5] has been restored over the course of its decade-long transformation. The modern addition to the site meets the 1874 Neo-gothic heritage building with light and movement, filling in space vacated by demolished, later additions. The jury commended the project for its impact on the neighbourhood and its landscaping, which pulls the entire development together.
Endnotes:
[Image]: https://www.constructioncanada.net/wp-content/uploads/2019/11/Opener-3.jpg
Heritage Toronto: https://www.heritagetoronto.org/
NADAAA Architects: http://www.nadaaa.com/
ERA Architects: http://www.eraarch.ca/
Adamson Associates: http://www.adamson-associates.com/
Source URL: https://www.constructioncanada.net/heritage-toronto-award-winners-announced/
---